Product Description
Be Sure to watch the videos at the bottom of the page to learn about the the MUCK DIGESTER PELLETS in detail.
Our ORB-3 Lake Muck & Sludge Pellets are a combination of all-natural technologies. They are an easy to use, cost-effective method for continuous sludge management.
Biodegradable pellet


Contains sludge-eating bacteria, sludge-eating enzymes and trace minerals

Improves water clarity

Naturally eliminates odor-causing muck on beaches

No gypsum fillers
IMPORTANT: OUR ORB-3 BRAND MUCK PELLETS ARE TEMPORARILY UNAVAILABLE
THE GOOD NEWS IS THAT YOU CAN STILL BUY OUR NEW AND IMPROVED CLASS-1 PREMIUM GRADE PELLETS
- CLICK HERE TO GO TO PRODUCT PAGE -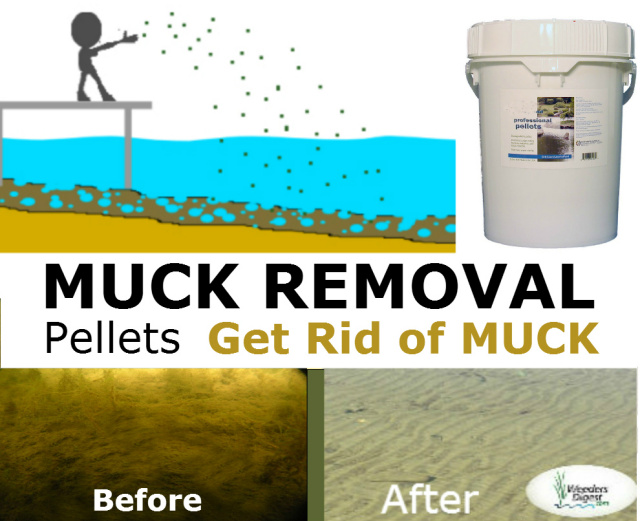 All new value-added bacteria pellets, were designed for lagoons, lakes and ponds as a low-maintenance solution for sludge bed and suspended solids removal, water clarity and beach clean-up.
These pellets are fortified with specialized bacterial strains that are high volume waste consumers of muck and organic matter. These pellets have a broad trace mineral base and an organic catalyst to increase the productivity of the beneficial bacteria in each pellet. The pellet itself was specially designed to drive the active ingredients down to the sludge so the dose isn't consumed by the water column.
10 pound package -- $159
25 pound package -- $359
50 pound package -- $509
Purchase the

ONE POUND SAMPLER

for your own testing here -- $10
NOTE: Water temp must be at least 60 degrees to apply
All-Natural Muck Digester Pellets
Efficient pond management starts from the maintenance of sludge. Several tests had been carried out, among which is Muck Digester Pellets. Muck Digester Pellets were tested on a 42-year old lake by treating an area on one side of the dock and leaving the other side unattended to.
The findings are as follows: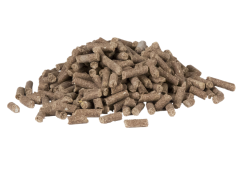 Removing the muck eliminated most of the rooted plant growth in the treated area

Muck levels reduced on the treated side by about 8 inches over a summer of treatment

The owner of the home saved hours on back breaking labor.
Dont forget to check out all of our other solutions designed to get rid of and control muck & decaying weeds! See them here
Application Rate
Spot Treatment for around a pier, beach or problem area:
Use 8# per week for 4 weeks; then 2# every other week as needed; at this rate 50# will treat up to 4,000 sq ft for a five month season.
Total Coverage for water body treatment:
125# per surface acre (3.0# per 1000 sq ft), Broadcast pellets uniformly over surface; Use 2 – 4 times per year.
For Optimum Results
Use as directed

Apply when ambient temperature is 50°–90° F; dissolved oxygen level is over 1.0 ppm; pH is 6 – 8; alkalinity is less than 100 ppm

Proper aeration will enhance product performance
Technical Specs
In use pH Range: Neutral

Solubility in Water: Partially soluble
Call us 7 days a weed with questions. You can order online or by phone! 763-551-1441 or 877-224-4899
Custom Field
Product Reviews
We purchased a lake home with a neglected shoreline. We raked the weeds out in Spring, but the muck remained, and was unpleasant to walk on or smell. A few weeks and the bottom has firmed up, and visitors have been delighted and mentioned the difference. The bluegills have started bedding in it once again as well.