Product Description
Introducing the Portable Dredge System from Weeders Digest! The Dredge is a compact, highly portable, Honda 4.3 HP @ 3600 rpm gasoline engine powered, sediment removal pumping system. It is designed to provide homeowners, contractors & shoreline management services the ability to dredge and transfer unwanted aquatic debris and sediment out of lakes and ponds. Our heavy duty, portable Suction Dredge is an efficient alternative to using an excavator, which is expensive, has limited reach, may be destructive to the shore, and typically deposits the material adjacent to the shore, only to wash back in with the first good rain. It also works well as a fire pump.
Our portable Boat Mounted Suction Dredger is particularly effective in removing sand, silt, and that ruins the waterfront and prevents one from enjoying the beach and costs thousands to hire 3rd party companies to remove. The dredging capability is about 2118 cubic feet of water per hour, (15,800 gallons) along with 211 cubic feet of sediment per hour. These volumes may vary depending upon the nature of your application.
The unique design of the Dredge allows you to hover the pump over the bottom which makes it very efficient. The centrifugal pump is equipped with a mill that effectively grinds down the roots of reeds and other seaweeds.
STANDARD CONFIGURATION: The standard configuration is in stock and available for purchase.
INTAKE SHAFT LENGTH: 8 ft (Other Shaft length options include: 4' - 5' - 6' - 10' but are not always readily available)

DISCHARGE HOSE: - 2.5 inch OD heavy duty flat hose - 150 ft long (Additional hose lengths up to 450 ft totalling 3 x 150 ft hoses can be added upon request.)

Honda GVX160 Air-cooled 4-stroke OHV Motor
Accessories:
Bottom Softening Knife Attachment for loosening firm packed bottoms - This attachment will also help protect the dredge blades from large rocks.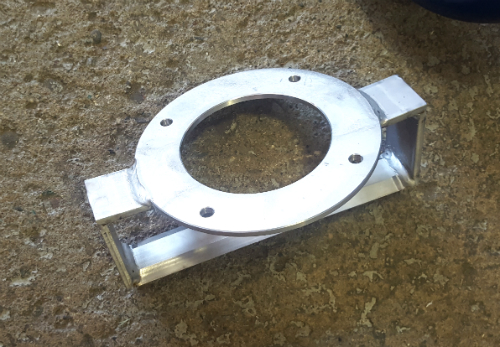 The dredger is delivered with a variable mounting, 8-foot transparent hose and one Cam Lock coupling. You can mount it on a raft, a steady boat or you could do some dredging from the ice. It's best to mount it on a platform that you can remove from the raft when you want to use the raft for something else.

Many people also buy an extra quick coupling so you can easily divide the hose into the appropriate lengths..
The maximum hose length we recommend is 450 Ft, maximum lift height is 78 Ft. Stones and rocks as large as an inch can pass through the pump and anything larger is blocked.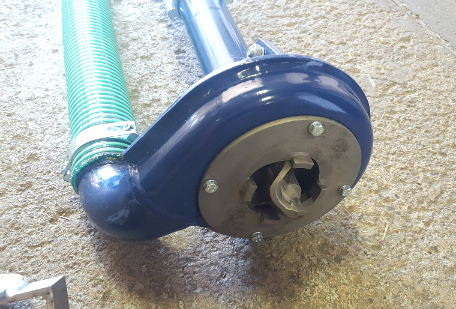 BENEFITS
SUMMARY
– Does not pollute lakes, ponds or streams
– No damage to the beaches or the bottom of the lake or pond
– Reed roots and mud easily gets sucked up and get pumped away
- Capable of moving about 1500 gallons of water per hour along with about 211 cubic feet of sediment per hour
– The sludge can be pumped up to 492' away depending on lift height and sediment concentration.
– Proven design has been used for many years.
– Also works well as a fire pump
TECHNICAL INFORMATION
Engine: Honda GVX160 Air-cooled 4-stroke OHV Motor

Weight 154 lbs

Standard shaft length is 8 Ft

Ball bearings, oil lubrication, virtually non-wearing mechanical seal

Hose connection 1.5" (63 mm)

Max lift height 78 Ft

Max. operating depth is 8 feet with standard shaft but a 10ft shaft is available upon request
Request more information of a custom quote by filling out the form below or by Calling us at 877.224.4899
Custom Field
Product Reviews