Product Description
Zip Grip Go Tire Traction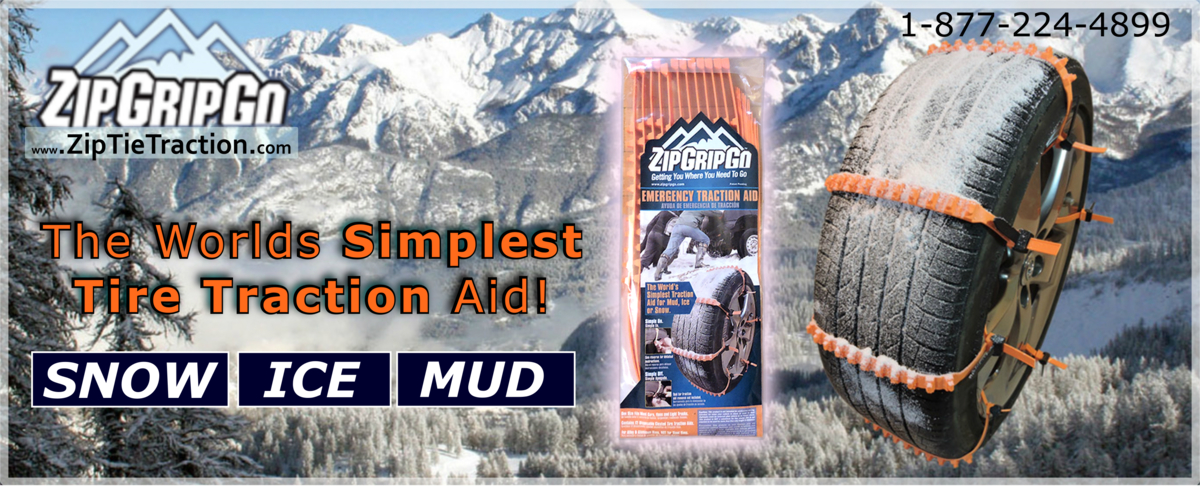 Zip Grip Go Winter Driving Cleated Tire Traction Aid
Check out the all new redesigned zip grip go from Weeders Digest. It is the hottest new tire traction device for emergency roadside assistance. It's designed to keep you from getting stranded or stuck in a snow bank, winter storms, ditch & even work great for added traction in mud. Whether you're in the city or in the countryside the zip grip go gives you more confidence in making it to your destination.
The "zip tie" style traction straps will be your best friend in your trunk should you ever find yourself needing to get your vehicle unstuck. It's easy to use, comes with solid instructions and is installed in just a few short minutes. The zip grip go is intended for a one time use in getting you unstuck.
Get FREE SHIPPING if you buy 3 or more! Use coupon code "ZGG" when placing order online. (for U.S. residents only)
The Zip Grip Go is not a typical zip tie that you would find in your average hardware store or even a big box store. They are constructed from heavy-duty plastic, complete with eleven two-tiered traction cleats specifically designed for all cold weather climates. The cleats are designed to give your tires extra traction in both driving both forward and in reverse. You can rest assure that our product will not crack or snap off prematurely. If you use our product as instructed, you will be able to get your vehicle unstuck and back on the road in rapid fashion. Once you are back on the road, you will need to cut them off and dispose of them in a proper manner. Our ZipGripGo emergency tire traction aids are an affordable solution versus snow chains and have many benefits over chains. This product is not designed for long distance travel. They are the most efficient and effective product on the market to get you out of kind of bind that old man winter might bring you and your vehicles way!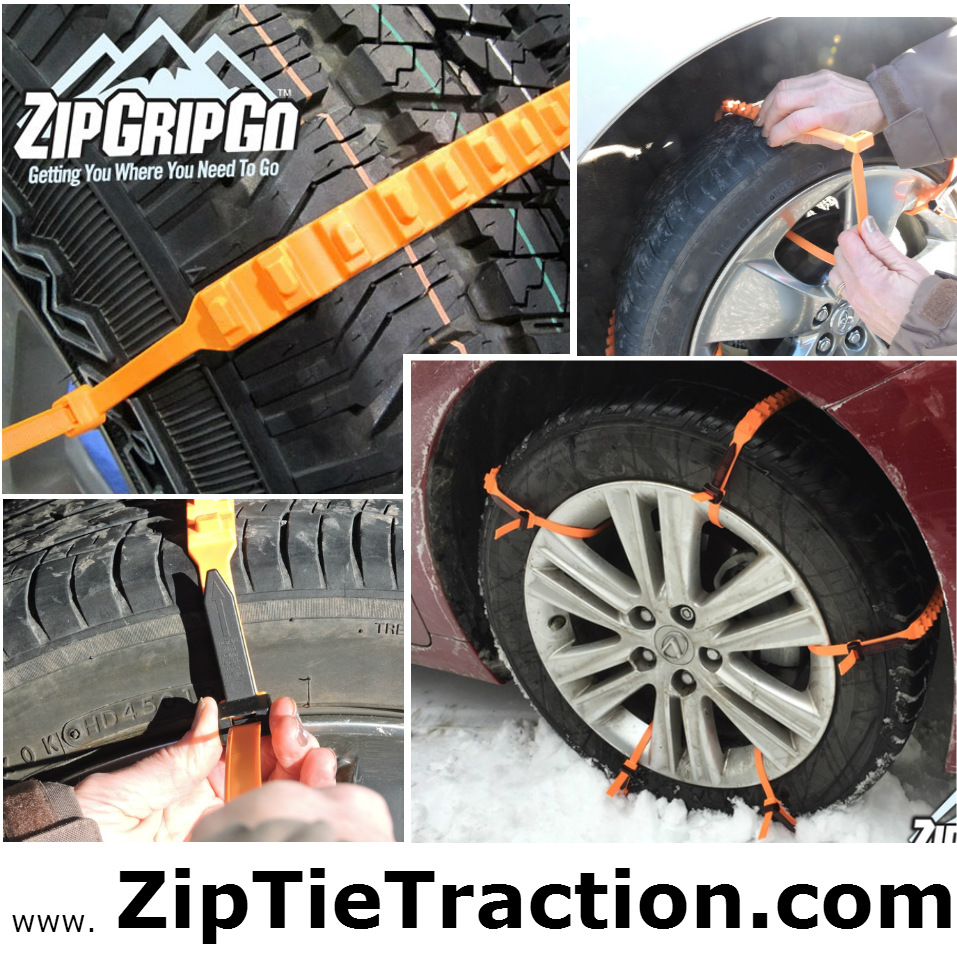 Zip Grip Go is an innovative traction aid for drivers who want or need the assurance of chains but prefer the convenience zip ties. Zip Grip Go installs in just minutes. Designed for driving your car, suv, pickup truck or van short distances and at slower speeds until you get to safety.
ZipGripGo is NOT designed for driving long distances. They are designed to use when your vehicle is stuck and only to be driven for 5-10 car lengths or until you are unstuck and back to safety. If you are looking for a traction aid made for driving at normal speeds for long distances we suggest that you use traditional tire chains.
Gets your vehicle unstuck from mud, snow, or winter weather.
No need to carry heavy chains or hard to use applications.
Easy to install and keep in your trunk.
Zip Grip Go should be in vehicle every emergency kit.
Each Package includes 10 cleated ties with locking mechanisms
Fits rims up to 22"
Use at least 5 ties per tire.
Watch The Zip Grip Go video to see them in action!
ORDER TODAY and it SHIPS TODAY
Each package contains 10 cleated traction straps and come with added locking mechanisms to ensure they will not break or fall off. Zip Grip Go is not designed for driving long distances or at high speeds on roads or hard surfaces. Only use them when your motorized vehicle is stuck or in situations where you feel you may get stuck. Once you are unstuck they can quickly be snipped away using any kind of cutting tool such as metal snips or sharp knife.
ZipGripGo...the easy to use emergency traction device!..
Single Use Product. Not meant for driving long distances on hard surfaces
Affordable & economical
Installs in less than 5 minutes
Works great in ice or mud
Amazing results in the warmest and coldest of climates
Gives peace of mind when traveling in bad weather or muddy areas
Helps avoid long waits & the expense of tows
Easily removed with a pair of snips or pocket knife
Zip Grip Go Tire Traction Installation Video
Have a Larger Commercial Truck or Small Semi? Then Dont Forget to Check Out Our Truck Claws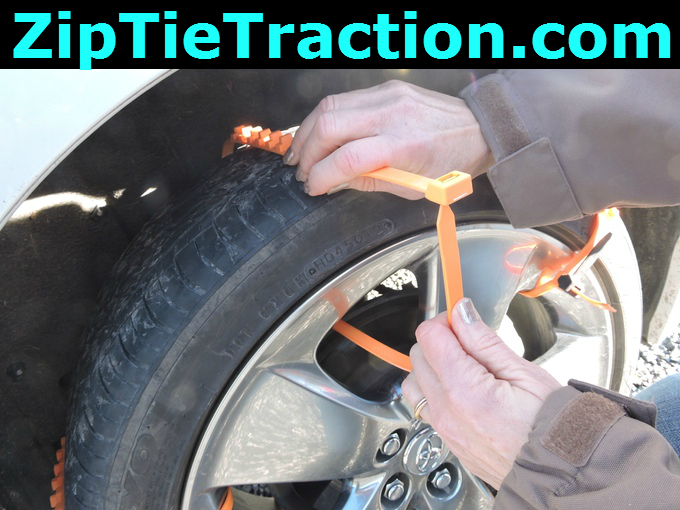 Order online above or call 877-224-4899. We are available 7 days a week!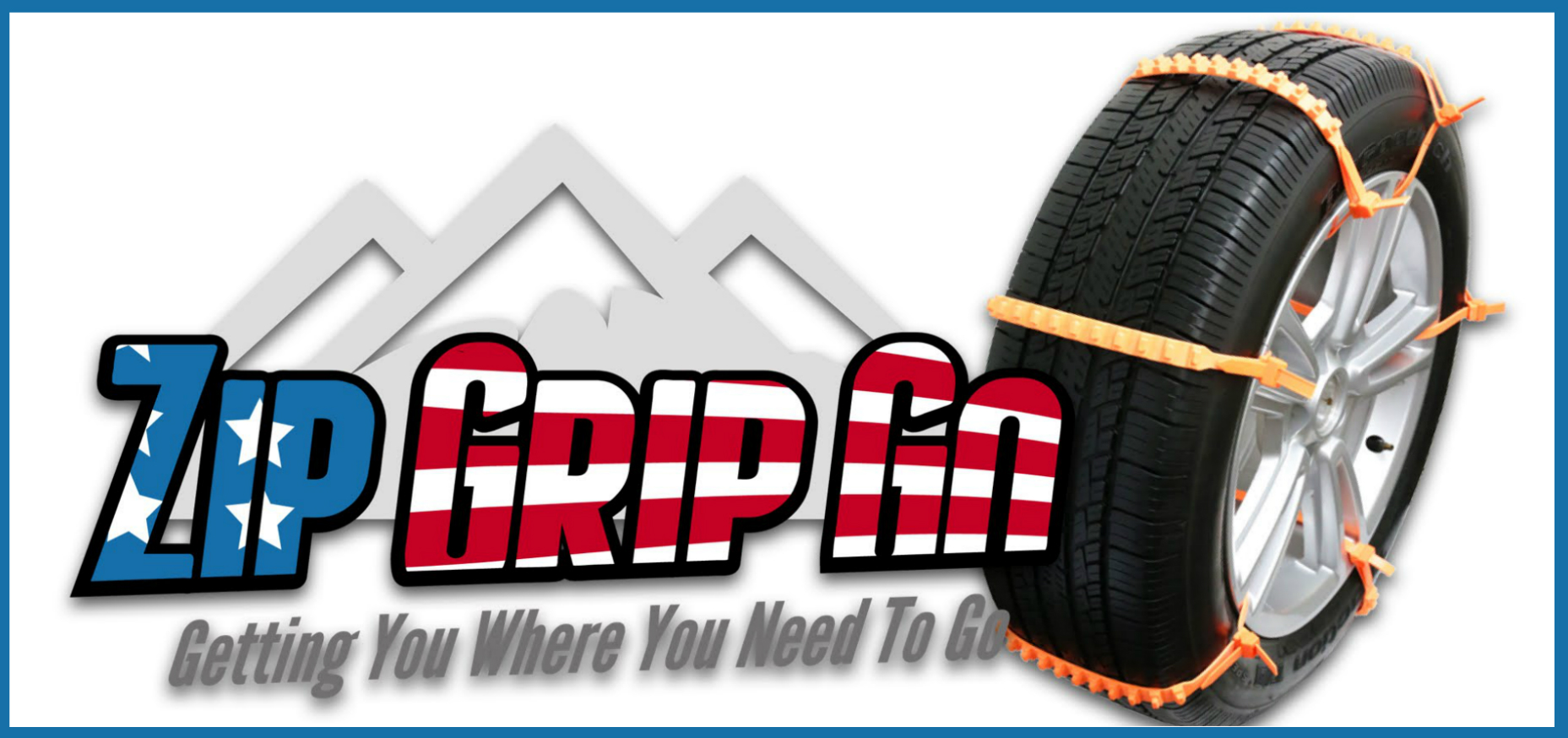 Product Videos
Custom Field
Product Reviews
This product is extremely handy to have, especially as a Canadian where our winters have many blizzards.

My brother was here from Az and was leaving back home. We know the weather was getting bad form them about the half ways mark. I gave he one package and he said he felt save when he got there. That is a big thing for us to feel save. We get only Ice and some snow here so when it get here we will be ready. Feeling save.