Introducing: The Neptune Rake!
Lake Weeders Digest is proud to introduce our newest aquatic harvesting solution, The Neptune Rake. The Neptune Rake is a portable harvesting system that cuts and collects aquatic weeds, muck, and debris from your pond or lake. A truly unique harvesting option, the Neptune Rake provides a heavy duty lake weed removal solution at a fraction of the cost of commercial equipment, and its portable design allows the rake to be utilized in remote applications.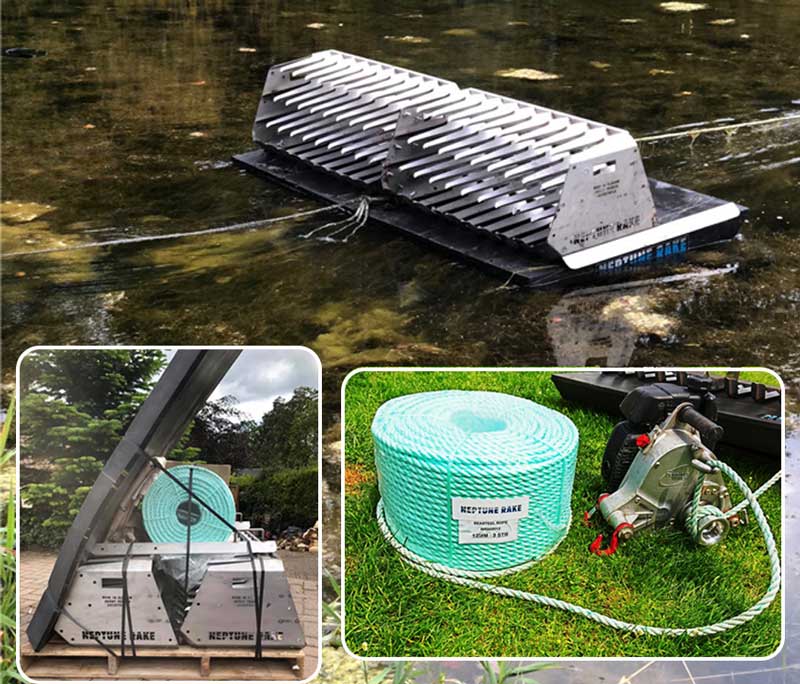 The Neptune Rake features two-piece 79" wide stainless steel blades, a closed cell foam float, and heavy duty winch with 720' 12mm sea steel rope, the Neptune Rake packs a serious punch, while also being light enough for two people to handle.
---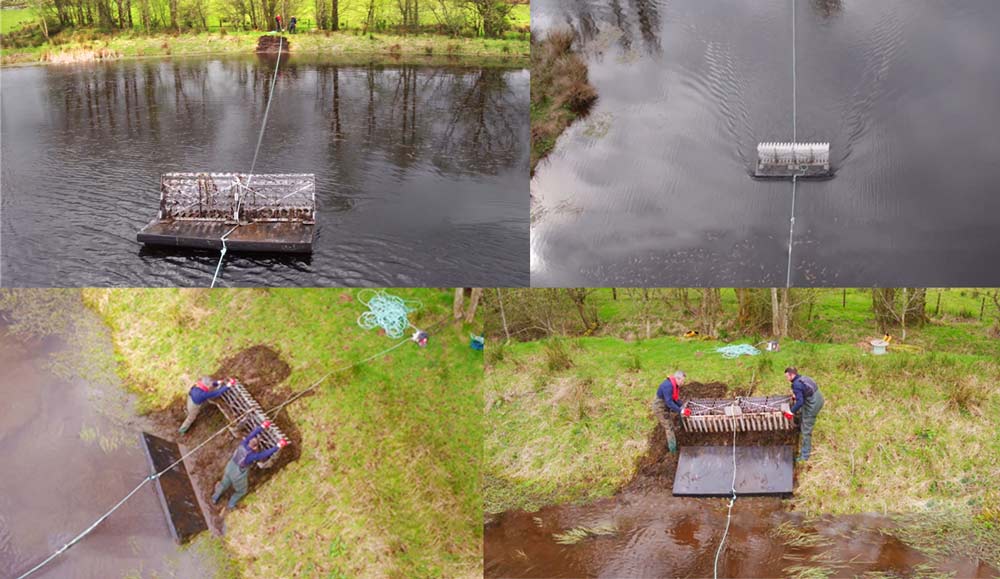 Using the gas powered winch, the rake is pulled along the lake bed, leaving a clean trail in its wake, no matter the severity of weed growth.As the rake is pulled onto land, two people can tip the rake forward, depositing nuisance vegetation and debris for easy composting. A float above the rake provides stability and marks progress along the lake bed on each pass. In addition, the float is used to move the rake across the lake when it isn't being winched.
Private ponds, channels, and even small lake environments provide ideal environments for the Neptune Rake to function. The Neptune Rake can be carried from your vehicle to the access point, and the blade contains two pieces that can be separated for easy transit and storage. Anchoring from shore to shore, or from shore to a point in the water, the Neptune Rake can be assembled and ready for use in 10 minutes, covering up to 200 yards in each pass.
NEPTUNE RAKE VIDEO #1
The Neptune Rake also provides a low impact removal solution for nuisance aquatic vegetation and muck. Having easy access means previously unreachable areas on the water can be harvested with minimal labor and environmental footprint. Commercial grade harvesters often require a large launching area and can destroy habitat in difficult to access water-bodies. A Neptune Rake system only requires a 6.5' opening, and the unit can be easily carried to the launch point.
Harvesting as you go, and not having to manually remove weeds saves significant time and money. In utilizing the Neptune Rake, customers don't have to spend hours cutting and subsequently raking debris onto shore. The portable winch system easily retrieves the Neptune Rake, which cuts and carries the harvested weeds and debris to shore in the same pass. Customers save big on labor, as the Neptune rake only requires 2-3 people for operation. Fuel and transport costs are also significantly reduced, as the Neptune Rake can be transported by truck, or larger SUV, and only requires gas for the winch system.
NEPTUNE RAKE VIDEO #2
For a portable, seamlessly constructed harvester that cuts and collects with each pass, the Neptune Rake provides an ideal solution. Each Neptune Rake harvesting system features durable materials in a lightweight and cost effective package. Our experienced staff is ready to answer any questions you have about the Neptune Rake, and we look forward to this system making an immediate impact in your lake or pond!
Contact us at (877) 224-4899 to learn more, and reserve your Neptune Rake today!
Learn More Here or visit LakeWeedHarvester.com where you will find more Neptune Rake information as well as our other harvesting equipement.
Recent Posts
Did you pay good money for that lakefront property with that breathtaking view? Has it turned into a …

If you live on a lake or pond, murkiness can cause you to question the water quality.Thankfully, lea …

If you're looking for some great ideas to bring your dock to life or add eye appeal, Weeders Digest …