Description
Digger Ice Auger Carrier Mount for ATV, UTV or Snowmobile
The Digger Ice Auger Carrier for ATV or Snowmobile provides tremendous power and function. If you navigate to your ice fishing spots on your snowmobile or ATV and want the best Auger Mount for your Auger then you have come to the right place. Go hands free and no longer worry about damaging or losing your items on the ride to the lake.
FEATURED ICE AUGER CARRIER - SPECIAL
Note: If you have a Polaris ATV or UTV then you will also must to purchase the Wrench & Ride or Quick Clamp in order to mount the Digger Auger Holder System. You can select it from the option above when ordering. Price: $25.00
Benefits:
Carry your ice auger with you
Easily mounts and stays in place
Avoid problems, losing your auger or damage by using this carrier
Add your other items on the back on the rack as well
Make the drive safer without having to lug the items with you
Features:
Comes with all the hardware that is needed
Grooves and clamp that allows you to snap your auger into place before you head off
Adjust the pressure from the clamp to fit the frame of the auger
Frame is made from a high strength, light weight alloy aluminum material
Made in the USA
CLICK HERE to check out our Brand New 3-in-1 ALL SEASON CARRIER

The Digger Anchor Ice Auger Carrier is the best choice for mounting your Jiffy, Strikemaster, Mako, Eskimo augers and more! It is also much easier to use and more durable than many other Ice Auger Mounts on the market. We have sold thousands of these Auger Racks to many Ice Fisherman over the years and have not heard any complaints. If you are not completely satisfied with this product simply return it and we will refund your purchased price. No questions asked!
If you are looking for more useful and unique winter fishing products you should check out our ice fishing gear section on this site. Or visit IceFishingEquipment.net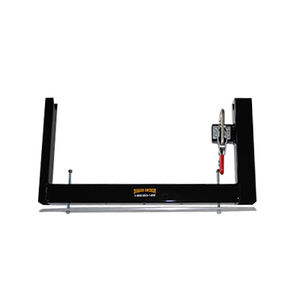 View All
Close
8 Reviews
I put this on my 2013 Polaris indy 600 works great!!

These carriers work great! I own 2 of them. Customer service with this company A+. Anytime I need something they are on point !

Easy to install, and is very sturdy

Mounted on my Honda Pioneer 500. Works great!

Easy to install in minutes and works like a charm. I'm very happy with the service and with the product.

This is my first and last auger mount I will ever need. Very solid and sturdy, nice finish. The only thing they need to change is the support bracket, it's not long enough to reach my auger motor. I have a Eskimo 10" propane one, and the support does very little but, still a must thing to have when your pounding the ice on lake Erie.

Awesome product. Fits on front of 2012 Honda 420 rancher perfect. Very solid can't wait for ice.

Best Auger Mount out there

This auger mount is simple to install, extremely sturdy and best of all it is super easy to load and unload your auger with gloves on. I've had moose auger mounts in the past that used the rubber straps and they were always a big hassle. With this mount its one flip lever and can be done with gloves or mittens!
View All
Close