Product Description
THE CUTTER - This razor sharp aquatic weed cutter cuts a 4 ft wide path with each pass. Includes two 2ft extensions, a 25ft leash & blade sharpener.

Other cutting tools such as the Serrated Lake Weed Cutter, T-Weeder or the Weed Razer work okay but many say that nothing compares to the Weedshear.

THE RAKE - Our heavy duty rake is a must have lake & beach maintenance tool. The aluminum head is 3ft wide and the durable handle is 6ft long.

THE FORK -

Ultra-lightweight aquatic weed pitch fork with a sturdy 16" x 12" reinforced rounded basket. Ideal for picking up piles of lake weeds along your beach. The pitch fork comfortably holds up to 30lbs of seaweed. Designed for less strain on your back.
These three tools make for the ultimate shoreline, beach & seaweed management package out there!
Money Back Guarantee!
Option add-on protective carrying case for the Weed Shear: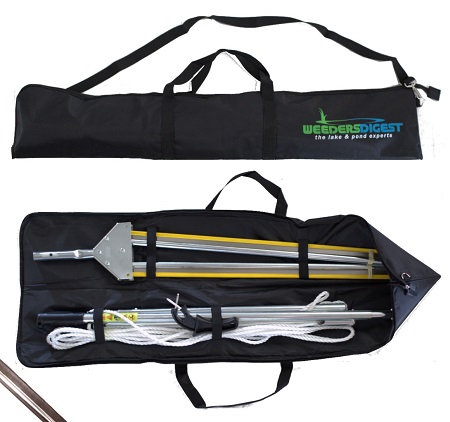 WE ALSO OFFER A SIMILAR PACKAGE WITH RakeZilla Big Tine Rake - CHECK IT OUT HERE!
Product Videos
Custom Field
Product Reviews