Description
Beach Weed Roller | Aquatic Weed Removal Tool
The Beach Roller from Weeders Digest uses the same concept as our Lake Groomer except it is a hand held tool and much smaller. The Beachroller cleans a 2-foot wide path as it moves along the bottom. It has a 20-foot long handle to maneuver it over a large area. As it moves along the bottom of the lake, it cuts and pulls weeds out by their roots.
When you're done you can rake in and collect the weeds with one of our lake weed & beach rakes. We highly recommend Rake Zilla because it is designed to rake, skim weeds off the surface and scoop up piles to be hauled away. (learn more about RakeZilla)
The Beach Roller Specs:
Roller Head: 2 ft wide
Handle: Includes four handle sections for a total of 20-ft when they are all connected.
Handle Material: Aluminum
Weight: 19 lbs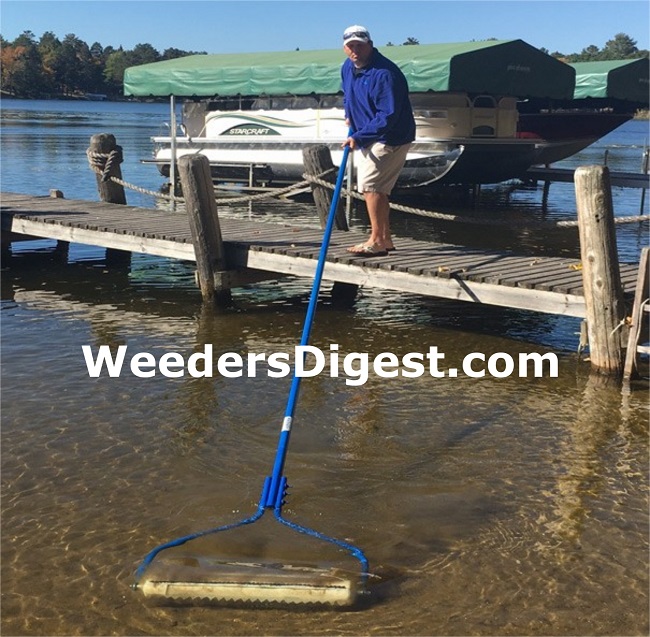 The Beach Roller is simple to use:
Put the roller in the water.
Let the roller fill with water and sink to the lake bottom.
Push the Beach Roller along the lake bottom.
The rollers 6 ripping blades cut and pull up weeds and muck.
Repeat until your beach area is clean.
Top reasons to use the Beach Roller:
Removes undesirable weeds and muck from lake bottom.
Simple and easy to use.
Cuts AND pulls weeds out by the root.
Loosen and removes the mud on the bottom.
Gets down to the hard bottom, so you can use your beach.
No power required.
No permit required.
Portable - use in all areas and depths other tools miss.
No expensive and harmful chemicals are used.
No maintenance required.
Easy to move or store when not in use.
Made locally in the U.S.A.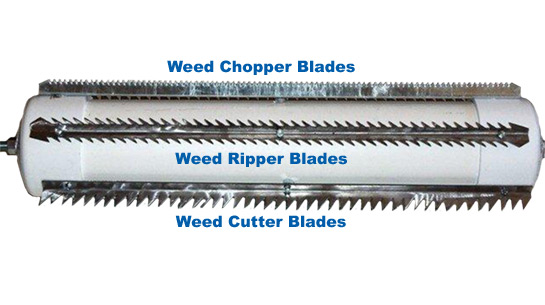 Removing the entire plant is important because weeds will not grow back because they are truly gone. The Beach Roller will also work to stop weeds from taking root along with stirring up sediment from the bottom of your beach which is beneficial to getting rid of muck. The weeds will then either blow away to a location other than your lake shore, OR you can use one of our lake weed rakes to collect all of the removed weeds. Watch the video of the Beach Roller to see it in action! If you are interested in a more automated solution don't forget to check out our Lake Groomer. If you are trying to get rid of lake muck, then you have to see our Aqua Thruster.
View All
Close
20 Reviews
Works better than I could have asked for, great product!

For years I was trying to clean up the weeds with a beach rake with unfortunately little success. I bought the Weed Roller last fall and began cleaning the shore early spring. I couldn't be happier, it took a little bit of work but was well worth it. The weeds are now under control and I have a nice sandy lake bottom for friends and family to enjoy. I highly recommend this item. Best $ I ever spent.

The Beachroller works very well. I did not buy it until the weeds already grown in thick. I used it all around and under my dock in very heavy thick weeds. It was difficult to get through thick weeds but it did remove them completely. The area around my dock is now weed free and clear. I just roll the area a few times per week now, it stirs up the bottom real good that settles back out. This is far superior to a lake weed rake.

We recently bought a lake house on a very large lake. The community doesn't treat the lake seaweed & muck. So, I figured I'd give this a try to get a great swimming area around our dock! It works great! I couldn't be happier. The neighbors thought that I was crazy at first. But they see how great our area looks and are now asking me to do their areas too. It takes some work the first time, but after that....it's just a little maintenance each week. Also, tip, get in the water to use this. The angle is better and the roller moves through the water easier.

Works great, great customer service. Wish there was something to store the cutter head in

Just Wow! I was skeptical. It works, it is cheap, it is great exercise. One week in and our swim area is in great shape Thank you

Works great! This was worth the money!

This Beach Roller works amazing!

wonderful, easy to use works great

The Beach Roller works wonders.

Been using this product for a few weeks now and it does exactly what it is suppose to. Great product!!!

This product is well worth the money. You have to put the time in at first to get the results,. After that, the maintenance is easy. I have tried several other products, and this product has been the best to achieve a weed free and no muck lake front area. We now have a very sandy bottom, and my kids and neighbor kids love it.

We've had the roller for about 2 weeks now and have used it almost everyday. We've seen a big difference in the lake bottom by our beach. We don't have much of a current though so use another rake to remove the muck after we roll. Highly recommend
View All
Close