Frequently bought together:
Description
Arguably The Best Dock Bubbler For Your Money
The high performance dock bubbler deicer is capable of melting ice in some of the coldest places on the planet! Besides being able to prevent ice damage to your dock or pier, this bubbler adds O2 to the water that helps prevent fish kills.
Which Dock Bubbler Is Right For You?
Depending on where you live and how you mount your bubbler, you may want to opt for a larger or smaller HP motor. Below is a chart that shows the expected area of water that will be kept open around your dock based on average winter air temperatures.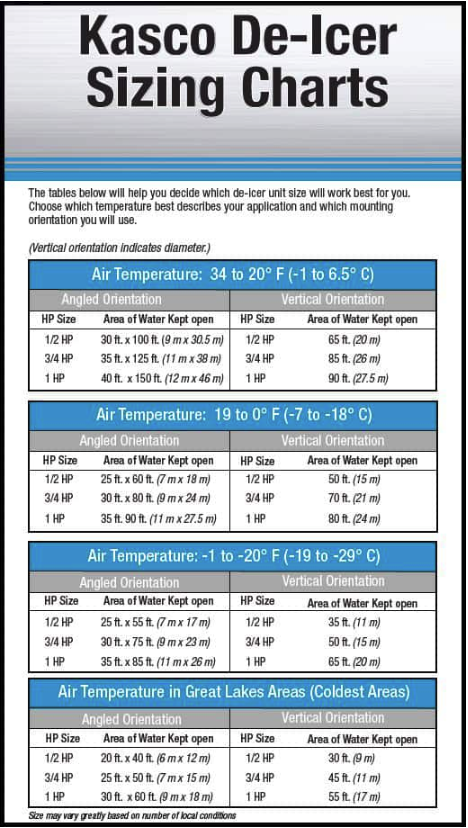 How Does The Dock Deicer Bubbler Work?
A de-icer bubbler draws warmer, denser water from the bottom of your lake or pond and pushes it upwards to the surface. The warm water and circulation of the water is what prevents ice from forming around your dock, pier or anywhere else you place the bubbler.
How Do I Install My Dock Bubbler System?
There are a few different ways you can install your Kasco dock bubbler system. If you have a dock or pier, you can use the rope / sling mounted bubbler in the water by the edge of your dock. Or you can purchase the universal dock mount that attaches directly to your dock or pier. If you do not have a dock or pier, we offer a freestanding frame that can be placed anywhere in the water.

Finally, and we saved the best for last, you can purchase our universal oscillator for your dock bubbler. Our de-icer bubbler oscillator attaches to your dock or pier and rotates back and forth to keep even more open ice in front of your dock or pier. As a matter of fact, our oscillator can replace up to 4 bubbler and save you some money on your energy bills. CALL FOR PRICING AND TO PURCHASE THE OSCILLATOR - 877-224-4899

For more about the installation process, here is Bruce and Scott to tell you more…
Bruce explaining the sling, dock/pier and floating mounting options for the dock bubbler
Scott explaining the freestanding frame mount option for the dock bubbler
Scott explaining the 360 oscillating mount option for the dock bubbler
Save Even More Money With Your Dock Bubbler
So you have decided to purchase your dock bubbler from the experts at Weeders Disgest! That is great news!
Now we want you to save even more money with a thermostat controller for your bubbler so you don't have to let it run all winter long. We offer 2 different thermostats for your dock bubbler, the c-10, c-20 and the c-25 models. Here is Scott again to tell you more…
View All
Close
2 Reviews
Dock Bubbler and Timer kit

Just an AWESOME experience from the time I 1st contacted Weeders Digest ( LOVE the name !!)until the time I installed the device at my dock.Thanks 2 their knowledgeable staff I went from clueless to the envy of the lake association ..Definitely would recommend this company..Good value and GREAT service !!

Keeps your dock area open

Ties off nicely on dock cleats with the rope option. Pretty quiet for how large of an area it impacts. Overall good purchase.
View All
Close