Product Description
The Kasco De Icer 3400D Is Arguably The Best Dock DeIcer For Your Money
FREE SHIPPING within the U.S.A on all Kasco DE ICER orders!
The high performance 3400D ¾ HP de-icer from Kasco is capable of melting ice up to 50ft away in some of the coldest places on the planet! Besides being able to prevent ice damage to your dock or pier, this de-icer adds O2 to the water that helps prevent fish kills.
Is the Kasco 3400D De-Icer Right For You?
Depending on where you live and how you mount the de-icer, you may want to opt for a larger or smaller HP engine. Below is a chart that shows the expected area of water that will be kept open around your dock based on average winter air temperatures.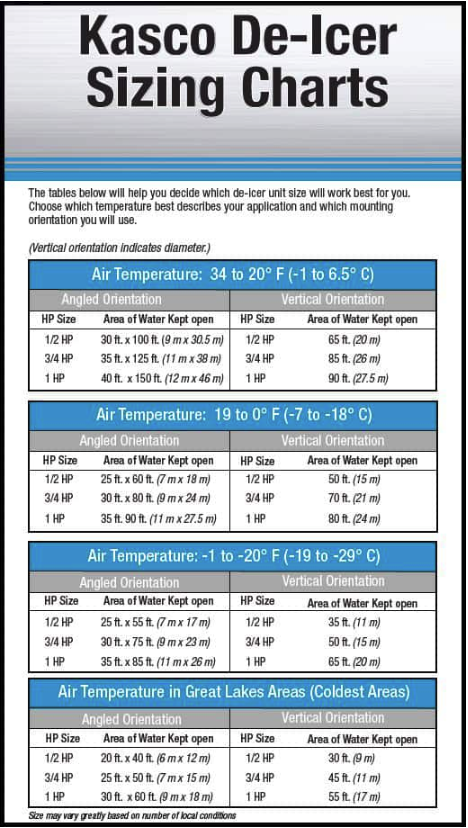 How Does The De Icer Work?
A de-icer draws warmer, denser water from the bottom of your lake or pond and pushes it upwards to the surface. The warm water and circulation of the water is what prevents ice from forming around your dock, pier or anywhere else you place the de-icer.
How Do I Install My De-Icer?
There are 5 different ways you can install your Kasco de-icer.
If you have a dock or pier, you can create a sling to drop your de-icer in the water by the edge of your dock or you can purchase a mount that attaches directly to your dock or pier.
If you do not have a dock or pier, we offer a freestanding frame that can be placed anywhere in the water or you can attach your de-icer to a float mount.
Finally, and we saved the best for last, you can purchase our universal oscillator for your Kasco de-icer. Our de-icer oscillator attaches to your dock or pier and rotates back and forth to keep even more open ice in front of your dock or pier. As a matter of fact, our oscillator can replace up to 5 de-icers and save you some money on your energy bills.

For more about the installation process, here is Bruce and Scott to tell you more…
Bruce explaining the sling, dock/pier and floating mounting options for the Kasco De Icer
Scott explaining the freestanding frame mount option for the Kasco De Icer
Scott explaining the 360 oscillating mount option for the Kasco De Icer
Save Even More Money With Your Kasco De-Icer
So you have decided to purchase your Kasco de-icer from the experts at Weeders Disgest! That is great news!
Now we want you to save even more money with a thermostat controller for your de-icer so you don't have to let it run all winter long. We offer 2 different thermostats for your Kasco de-icer, the c-10 and the c-20 models. Here is Scott again to tell you more…
Custom Field
SHIPPING
FREE to all 50 States
SUPPORT
Lifetime Technical Support
Product Reviews
Review for my kasco deicer

We are very satisfied with our Kasco De-icer bubbler. It keeps more than enough water open around our dock so we can leave it in all winter. Great service as well.