Description
Jet Aeration AND High Volume Circulation in One Package
Introducing the AirStream PRO by Weeders Digest
This breakthrough technology brings jet aeration and high volume circulation together to provide one high quality system. Efficient, effective and developed specially for increasing the circulation and oxygen throughout water in ponds and lakes to reduce aquatic vegetation, improve water quality and keep the animal population within alive and in good health.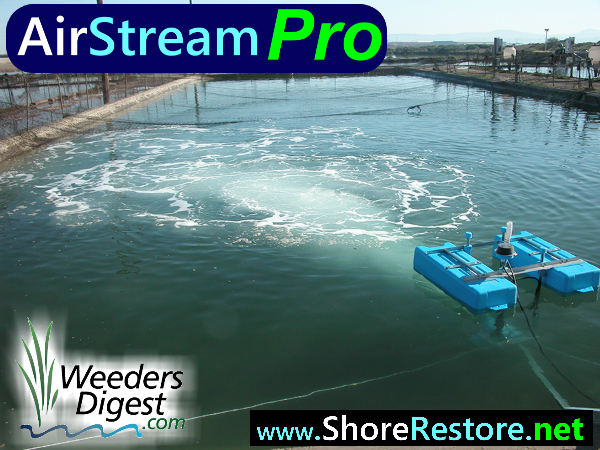 The AirStream Pro:
Delivers rapid muck reduction when placed close to the bottom in shallow, mucky areas.
Effectively reduces the phosphorus, nitrogen and carbon that lead to excessive weed and algae growth.
Is ideal for water-body owners looking to reduce muck, weeds and algae, and to reverse water stagnation in channels, coves and bays—without using harmful chemical herbicides.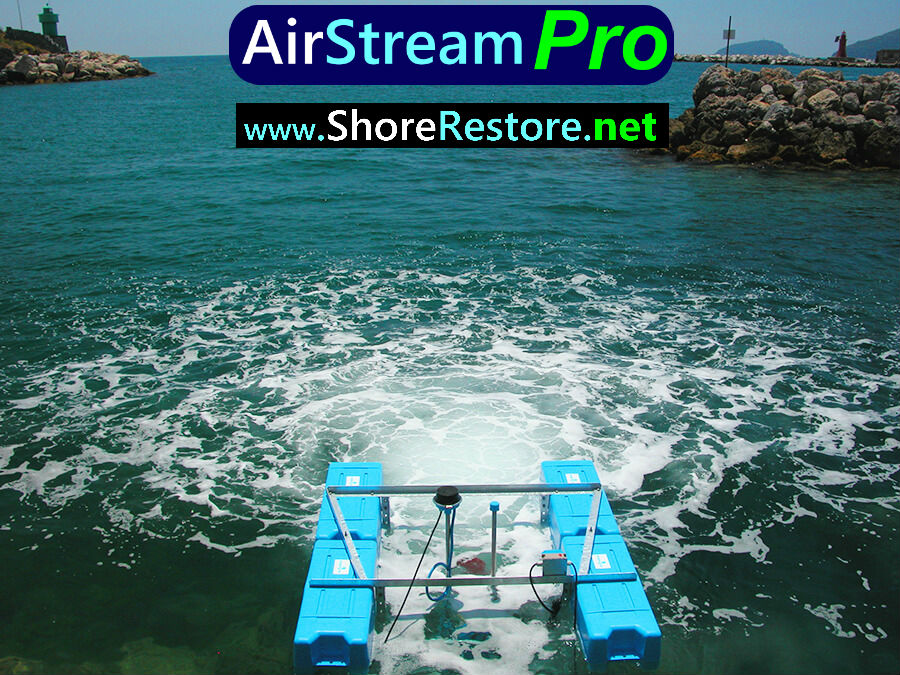 Benefits
Reduce muck, weeds, and algae on lakefronts, channels/canals and coves without the need for harmful chemicals
Oxygenates and circulates all in one machine
Breathe new life into stagnant ponds
Increase dissolved oxygen and circulation in aquaculture operations
Reduce weed growth by removing the nutrients that feed them
Reduce algae and improve water clarity in your swim area
Attract more fish
Capabilities
Circulation range of up to 120 feet
Float mounted unit provides the versatility to move the unit around your shoreline.
All models come standard with a 100ft power cord. (We have longer and shorter cord options available. Call for details & pricing)

AirStream

pro is rated for 60Hz The standard unit will not run with 50Hz. If the plan is to purchase and bring out of the country it needs to be discussed with a Weeders Digest sales professional during buying application.
IMPORTANT
Our Goal is to provide you with the necessary information you will need in order to operate the AirStream Pro. In order to run the AirStream Pro you will need the following:

20 amp circuit / outlet is required for the AirStream Pro

220v/240v setup. You will need NEMA 6-20 receptacle

the Air Stream pro is rated for 60Hz The standard unit will not run with 50Hz. If the plan is to purchase and bring out of the country it needs to be discussed with a Weeders Digest sales professional during buying application
LARGER COMMERCIAL VERSIONS AVAILABLE - Please contact us for more info.
Contact us today for further information: 763-551-1441
View All
Close
7 Reviews
Very good although pricy I will buy it again

It's not very often I write a review but these guys certainly earned it. All of the lake's garbage blows to our shore and we're right on the end so it's like a big catcher's glove. Nothing had ever been done in front of our house and we had about 48" of muck and weeds at the end of our dock. We ordered the dock mount unit to put on our floating dock and we floated the dock from one side of our property to the other last year. The aerator did an amazing job of removing the muck and weeds. The lakefront is drastically improved and is very noticeable. As much as we appreciated the drastic improvement in the lakefront the best part was the customer service we received. We had an issue with the Stainless bracket that mounts the aerator and thruster to the down pole. Our sales person Scott put us in touch with the guy who was the expert on the aerator (Corey???). He was very honest about what he thought the problem was and took ownership of the issue. He sent a new bracket out immediately and that still seemed off as far as the operation (although serviceable). I called Corey again and we discussed the operation of the bracket. I think his insight to the problem was right on and he didn't try and duck away from anything. His honesty and taking care of the problem was consistent with everything you read about on these guys. My neighbors on both sides have had the same experience. DEFINITELY a satisfied customer!!!!! 5+++ stars

Skeptical at first, but this thing works GREAT!!

Let me start out by saying I was skeptical of the airstream working, but I was mistaken. This thing works GREAT!! I work for a world leading company that grows bacteria and talked to some of the microbiologists about this technology and they all said it should work well for what I am trying to accomplish. We live on a channel that is roughly 60' wide and have 360' of frontage that was choked off by weeds and lily pads and had a roughly 4' layer of muck on the bottom. After the first 2 weeks of using the airstream you could already see a big difference in the amount of weeds and the water clarity. There was so many weeds and roots floating up from the bottom that I had to go out in a boat and scoop them up!! There were lily pad roots coming up that were literally 6-7' long, I was shocked!! Seeing this it was no surprise to me why my years of raking with a weed rake didn't have much effect, I could never get those roots out of the muck. After the first summer of using this we eliminated about a foot to foot and a half of muck. This muck was actually eaten by the bacteria that grew up from the oxygen rich water, not just pushed to our neighbors shore. You can clearly see the bottom and the muck is gone, AMAZING!! In some areas we are down to firm bottom already. To anyone looking at the airstream I would suggest pulling the trigger on it. Two of our neighbors are already buying one since they saw our results. While it isn't cheap and does use a fair amount of electricity, it is much cheaper than dredging and doesn't require a permit. The technology behind this is scientifically sound and proven. The airstream is well made. It should last for many years of use. Just wish I would have found this product years ago.

AIRSTREAM PRO JET AERATION

After 2 weeks with airstream pro 75% of floating algae is gone, seems to work much better than 1000's of $ of chemicals and our wind mill double diffuser aerator. Our 2 acre pond looks the best it has for years.

Excellent company to deal with, these guys really went the extra mile for me. No issues shipping to Canada. I have had the Airstream for a week and it's already transforming our waterfront from a mucky, weedy mess to a clean, pebbly, rocky shoreline. I started wearing waders to go in and move the Airstream around. In another week it will be flip flops!

Very impressed. Well work the investment

Ordered the Air Stream last spring and used to help get rid of all of the weeds and sediment on our swimming area so our kids could actually enjoy swimming. Our beach had a ton of seaweed and about 10 inches of a muddy bottom before we bought this machine. Now almost all of that has cleared in the areas we want to swim. So far we have had no issues with it and its still running strong.
View All
Close