Product Description
Jet Aeration AND High Volume Circulation in One Package
Are you a lakefront owner looking to reduce muck, weeds and algae around your shoreline—minus the harmful chemical herbicides? Are you the steward of a channel, canal, cove, bay or marina where the water has stagnated from lack of circulation? Looking for an aquaculture solution that's easy to install, reliable and durable?
Introducing the AirStream PRO by Weeders Digest
This breakthrough technology brings jet aeration and high volume circulation together to provide one high quality system. Efficient, effective and developed specially for increasing the circulation and oxygen throughout water to reduce aquatic vegetation, improve water quality & keep the life within alive and in good health.
Visit ShoreRestore.net for an in depth look at the AirStream Pro and how they work. You will also find a variety of Videos of the AirStream Pro in action.
Choose from the Float Mounted Unit or the Dock / Pier Mounted Unit (see below for details)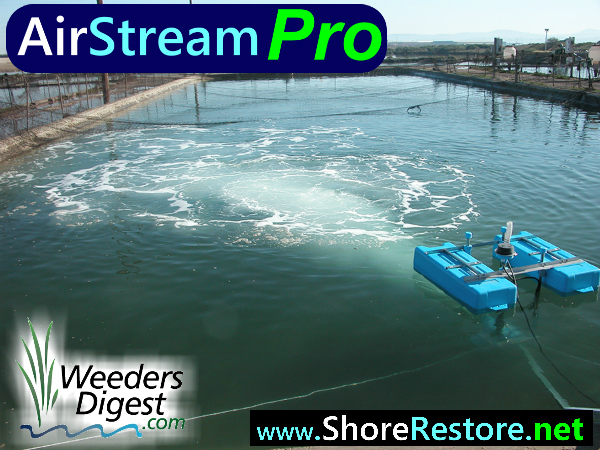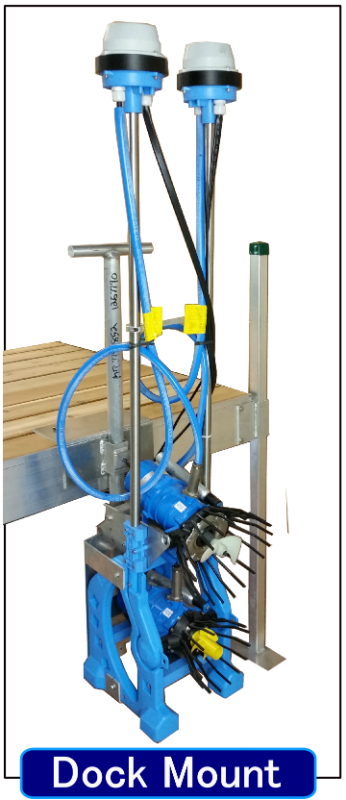 For more information, pricing or to place your order call: 763-551-1441 : 877-224-4899
The AirStream Pro:
Delivers rapid muck reduction when placed close to the bottom in shallow, mucky areas.
Effectively reduces the phosphorus, nitrogen and carbon that lead to excessive weed and algae growth.
Is ideal for water-body owners looking to reduce muck, weeds and algae, and to reverse water stagnation in channels, coves and bays—without using harmful chemical herbicides.
Have a larger body of water? Use multiple Airstream units, OR combine the Airstream with other technologies such as Inversion Oxygenation, to achieve full circulation and aeration. We have models for Smaller Applications such as ponds and Larger Applications for Marinas & Commercial applications. Contact us for more information regarding commercial versions.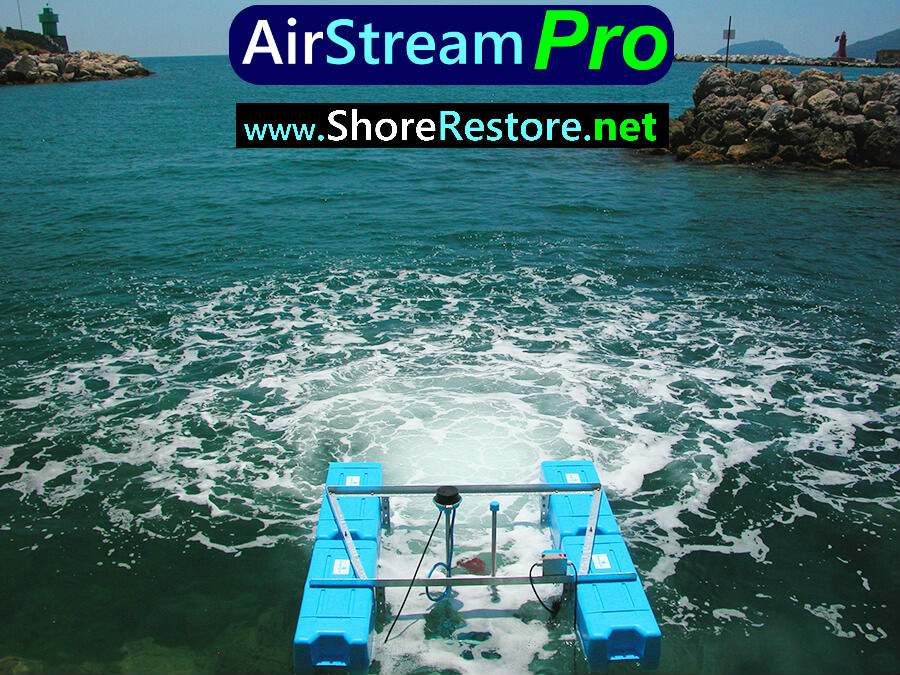 Benefits
Reduce muck, weeds, and algae on lakefronts, channels/canals and coves without the need for harmful chemicals
Oxygenates and circulates all in one machine
Breathe new life into stagnant ponds
Increase dissolved oxygen and circulation in aquaculture operations
Reduce weed growth by removing the nutrients that feed them
Reduce algae and improve water clarity in your swim area
Attract more fish
Capabilities
The 1.5hp aerates 1-2 acres from one spot
The 2Hp aerates 1-3 acres from one spot
Circulation range of up to 120 feet
Float & dock mounted options available
LARGER COMMERCIAL VERSIONS AVAILABLE - Please contact us for more info.
Float mounted unit provides the versatility to move the unit around your shoreline.
Dock Mounted unit with 360 degree rotation
1.5HP model can be used with a 110-volt service, and a 20-amp circuit
2HP model can be used with 220-volt service with a 20-amp circuit
All models come standard with a 100ft power cord. (We have longer and shorter cord options available. Call for details & pricing)
IMPORTANT:
Our Goal is to provide you with the necessary information you will need in order to operate the AirStream Pro. In order to run the AirStream Pro you will need the following:
20 amp circuit / outlet is required for all models
If you are using our 1.5hp (110 volt) version you will need "NEMA 5-20 receptacle" & a "NEMA 5-20 plug"
If you are using 2hp (220 volt) model you will need "NEMA 6-20 receptacle" & "NEMA 6-20 plug"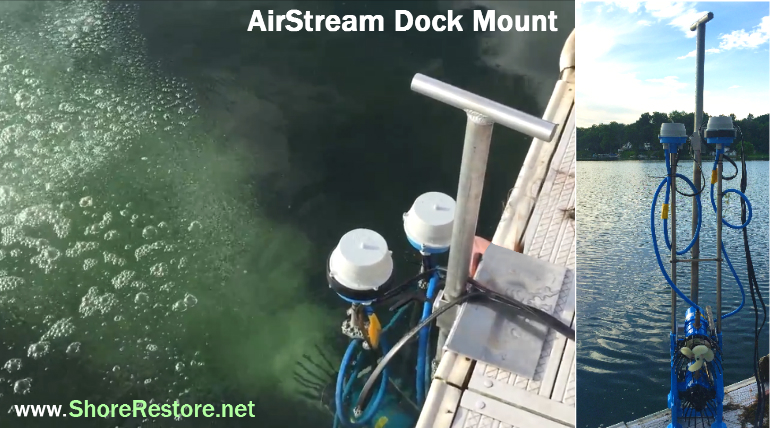 SEE MORE VIDEOS OF THE AIRSTREAM IN ACTION HERE
Contact us today for further information: 763-551-1441
Custom Field
Product Reviews
Very impressed. Well work the investment

Ordered the Air Stream last spring and used to help get rid of all of the weeds and sediment on our swimming area so our kids could actually enjoy swimming. Our beach had a ton of seaweed and about 10 inches of a muddy bottom before we bought this machine. Now almost all of that has cleared in the areas we want to swim. So far we have had no issues with it and its still running strong.