Product Description
The BLACK PACK MAX Package is designed to target small to large scale algae problems, clearing up the entire water column and removing the nuisance by speeding up the breakdown of algae and other dead floating aquatic vegetation. This aids in cleaning out sludge, muck, nitrogen & phosphates in the water column and bottom, in addition to dramatically improving your pond or lake front aesthetic, smell, and ecosystem.
DESIGNED TO: Target Algae | Speed Up Decomposition of Dead Algae | Reduce Muck on the Surface & Bottom.

| PACKAGE INCLUDES |
OVERVIEW OF HOW THESE PRODUCTS WORK AND COMPLIMENT EACH OTHER
CUTRINE PLUS LIQUID ALGAECIDE:
Cutrine Plus Liquid Algaecide targets algae mats or clumps, killing living algae with relative ease to be subsequently broken down with Bio-Chemical Catalyst.
SURFACTANT:
AB Adjuvant plays an important role in helping Cutrine Plus Liquid Algaecide stay on the surface of matted and clumped algae to increase the algaecides potency.
BLACK LABEL BIO-CHEMICAL CATALYST:
Bio-Chemical Catalyst does an excellent job of enhancing the efficiency of algaecides / herbicides / liquid bacteria. The catalyst is vital to breaking down dead and decomposing algae, greatly improving the performance of subsequent Liquid Bacteria and Pellet application.
Formulated and designed to accelerate the breakdown of dead weeds, algae and other dead floating aquatic vegetation in lakes and ponds Bio-Chemical Catalyst will in turn enhance the speed at which Algaecides & Liquid Beneficial Bacteria can digest and remove the broken down flora and excess nutrients in the water column much quicker.
BLACK LABEL LIQUID BACTERIA:
Liquid Bacteria is key in the further decomposition of the existing dying organic matter and residue left by the previously treated/currently dead algae. By re-establishing bacterial colonies, the product accelerates the process of rebuilding a healthy pond ecosystem. Liquid Bacteria works quickly and efficiently to consume & remove any broken down vegetation, sludge, muck, and nitrogen/phosphate residue left behind by Bio-Catalyst.
BLACK LABEL MUCK PELLETS:
Black Label Muck Pellets complete the decomposed algae breakdown, with enzymes targeting leftover organic matter in the water column. The subsequent effect results in enhanced water clarity and significantly reduced sludge/debris. Our Black Label Muck Pellets consume bottom sediment and decaying algae mats that had previously dropped to the bottom from the effects of the Bio-Catalyst and Liquid Bacteria.

The Black Pack MAX Package Includes:
1 Gallon - Liquid Bacteria
1 Gallon - Bio-Catalyst
1 Gallon - Cutrine Plus
1 Quart - Adjuvant / Surfactant
20lbs - Muck Digester Pellets
TREATMENT / DOSAGE RATES
Product
¼ acre

(good for 3+ treatments)

½ acre

(good for 2+ treatments)

1 acre

(good for 1 treatment)

Gallon Liquid Bacteria

Bio-Chemical Catalyst

Cutrine Plus

Adjuvant / Surfactant

Muck Pellets

@ 1/3 gal per month

@ 1/3 gal per month

@ .21 Gal (27 oz per acre area covered in algae)

@ 2 ounces per application ( cost $15)

@ 5- lbs per month

@ 1/2 gal per month

@ 1/2 gal per month

@ .42 Gal (54 oz per acre area covered in algae)

@ 2.5 ounces per application ( cost $15)

@ 5-10 lbs per month

@ 1 gal per month

@ 1 gal per month

@ .83 Gal (107 oz per acre area covered in algae)

@ 5 ounces per application

@ 15-20 lbs per month
APPLICATION STEPS:
1. Mix Cutrine Plus, Bio-Catalyst, Surfactant, and Water. Apply to the target area with sprayer) The Cutrine will kill the vegetation and the Catalyst will immediately begin to break up the dying algae mats, so when Liquid Bacteria is applied it will be able to digest decomposed organic matter more efficiently.
2. Apply Liquid Bacteria to the target area surface and/or on top of existing algae mats
( This can be applied 12-24 hours after completion of step 1)
3. Apply the Muck Pellets to target area. If target area is dead floating algae mats: Apply pellets to what remains of the surface of the mat and the mat decomposition area. (This can be done any time after completion of step 2)
The muck pellets that stay on top will assist in digesting dead flora. The pellets that fall through will sink to the bottom and continue to remove unwanted muck accumulation in your lake or pond.
If there is NO algae mat or it is not thick enough to hold pellets, apply pellets to areas where you would like to reduce muck on the bottom.
For best results, try to to space the pellets 3-6 inches apart to maximize performance.

WAIT 14 DAYS days from the first application of pellets before a second dose can be applied (if necessary).
OTHER BLACK PACK OPTIONS:
Target and Kill Living Algae - Speed Up Decomposition of Dead Algae - Reduce Muck on the in Water Column and Surface (will not target bottom sediment)

---------------------------------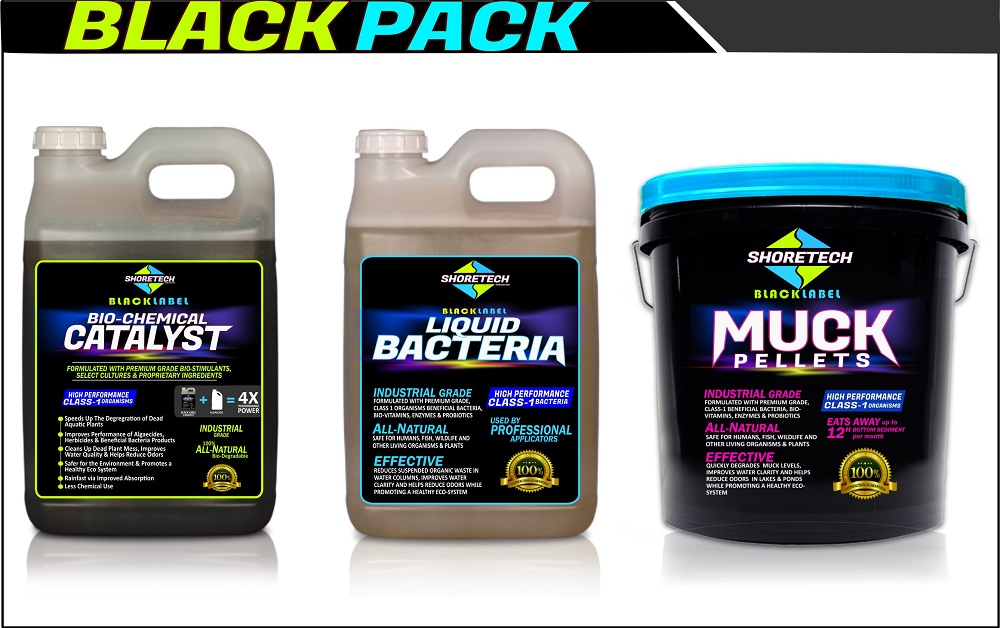 (This package will not kill LIVING algae. It will only help degrade and get rid of dead algae. IF you need to kill algae then choose one of our packages that include Cutrine Plus)
Speed Up Decomposition of Dead Algae - Reduce Muck on the Surface & Bottom Sediment
Product Videos
Custom Field
Product Reviews
You May Also Like...