Description
Lake Irrigation Pump Package
Buy the Pond and Lake Irrigation Pump, and start watering your lawn with high nutrient lake water today!
The Weeders Digest now offers the best Lake Irrigation Pump Packages and accessories by BeachGroomer. Finding the right filter and pump, check valve and necessary accessories is the key to getting the most out of your investment. These lake water pump packages have been sold to thousands of satisfied customers over the years. Once installed, an irrigation pump will pump nutrient packed lake water across your lawn. We offer a variety of other options to make sure your lawn watering needs are met! If you have any questions after reviewing the information below, give us a call at 877-224-4899.
1 Hp & 1.5 Hp Irrigation Pump Packages Include:
1 Hp lake water pump
Mounting Base w/stakes
40 Gallon Big Foot Filter filled Filter Matting
Check Valve
33' suction hose.
2 Hp Irrigation Pump Package Includes:

2 Hp lake water pump
Mounting Base w/stakes
80 Gallon Big Foot Filter filled Filter Matting
Check Valve
33' suction hose.
4-way brass hose manifold, fire nozzle, T-assembly valve and other accessories / upgrades available for all lake irrigation pump packages at additional cost. See below for details
Please note: 20 to 30 Amp Service Required for irrigation pump. If using an extension cord a minimum 12 gauge cord is required with a maximum length of 50 feet.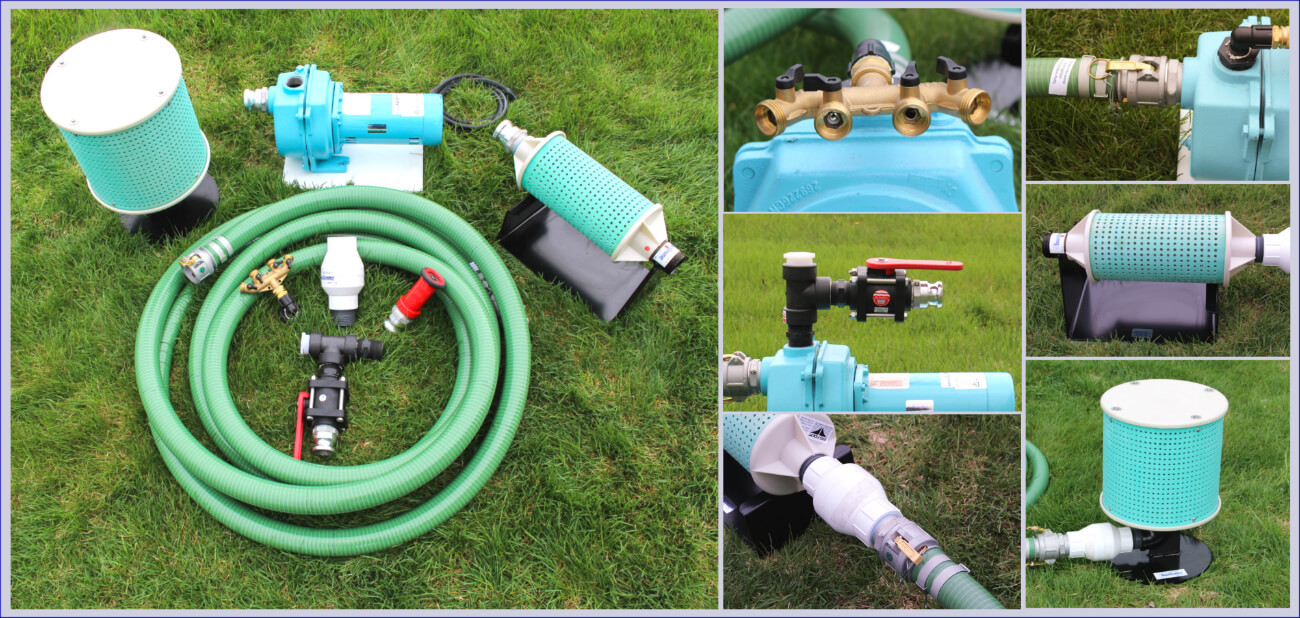 NOTE: Not all accessories shown in the image above are included in Irrigation Pump Package but are available as "add-ons". see below for pricing and details.
Fire Hose (25 ft) -- $190.75

80 Gallon Filter w/Filter Matting (no stand) -- N/A
Your complete lake irrigation pump package includes: (different packages & individual items are available. Learn more below)
Your choice of 1hp 1.5hp or 2 horsepower motor. Wired for either 110 or 220 volts and capable of pumping up to 72 gallons per minute. Requires minimum of 20 amp supply.
Pump mounting base composed of durable polyethylene, provides a sturdy anchor for the pump when secured to the ground beside the water. Mounting brackets and ground stakes are also included.
33 feet of flexible and durable 2-inch hose. Composed of PVC and equipped with quick connectors, not only is this hose easy to install, but it is easy to maneuver and manipulate for convenient placing.
The check valve ensures that the hose and pump remain consistently full of water. This eliminates the need for priming and reduces the transmission of air bubbles.
Big Foot Lake Filter which features a 40 gallon apparatus filled with matte for maximum and efficient filtration. Customers who choose the 2 horsepower version should opt for the 80 gallon filter.
Powder coated filter stand which offers sufficient elevation of the filter off the lake bottom.
Lake Irrigation Pump Packages & Add-on Accessories
The Lake Irrigation Pump Package comes complete with: Pump, Mounting Base w/stakes, Big Foot Filter filled Filter Matting for 1Hp, 1.5HP, and 2HP pump. Check Valve, and 33' suction hose.
View All
Close
10 Reviews
1.5HP 220V Lake irrigation pump package

Fantastic system. Easy to set up and use. it could be expanded to include a full pressure shut off switch to allow for some automated watering

The Video was Very Informative, I have a Pump already, can I Buy the Other Components?

It works great I would recommend it

Great product. Easy to assemble and works great. Couldn't be happier.

Excellent choice, fast delivery, quick hook up parts, easy assembly, also easy to disassemble for winter. Ran 2 hoses for now with sprinklers great pressure, will be adding a 3rd hose this week. Good quality equipment.

Lake Irrigation package with 4-way

Great product. Setup was simple and pump (1.5HP) worked like a charm. Water was pumping very quickly, and 4-way will help with multiple stations for irrigation

Pump system arrived quickly and intact. Inistalled easily and is working perfectly. We're running 4 lines off it (hoses, some doubled in length to a max of about 150') to water the yard and gardens. Excellent pressure even while running all simultaneously. Would definitely recommend.

1 HP Irrigation Pump System

I'm very happy with everything provided. Assembly was easy. My biggest concern was pumping water from the lake up an incline (10-12 feet in height) over a distance of 250 feet to the sprinkler. As it turns out it works great. Couldn't be happier.

Everything comes in the package, no running to the hardware. It didn't take long before I was watering my property- even though I live on a hill! Fantastic!

Top Quality Components, Easy Setup

I'm a do-it-yourself person and had good intentions of building a pump system for years. Meanwhile, my yard suffered from lack of water or, even worse, from chemicals present in city water. I knew that building a good system would take time and research. Then I spotted Weeders Digest and knew I'd found my answer. This is the quality you want. I'm pumping rich lake water onto my lawn now, and the benefits were obvious within one week. I'm happy. Pay a little extra for the expertise that went into the design and parts selection of this kit - - you will not be disappointed. The 1.5 hp pump seems to have no problem pushing water up a 15-foot incline and powering 6 sprinkler heads at once. I'm sure it can do more than that. I can't speak to durability, as I've had the system only two weeks. But there is nothing cheap or compromising about this kit. I put it together simply by looking at a photograph - - was blasting water in under an hour.
View All
Close