Product Description
The AquaThruster
The AquaThruster by Weeders Digest is the most effective tool to help protect, clean & maintain your shoreline & beach. This multi-purpose lake muck blower will meet, or exceed your expectations when used properly. The Aqua Thruster has many benefits and has one of the highest satisfaction rates among our customers. It can sweep away and clear out muck and sludge from your beach bottom wherever you choose. It is the best lake weed control product for getting rid of & preventing lake muck, dead lake weeds, algae, leaves, twigs and other debris on the lake bottom, and floating on the surface. The Oscillator can be set to rotate as much or as little as needed (0-360 degrees). This powerful machine is capable of clearing as much as a 175 foot diameter area from one spot!
Guaranteed to drastically improve your shoreline in as little as a few days.
Efficient operation (see below for power usage)
The programmable oscillator can be set to rotate any amount from 0-360 degrees
All components are UL listed and UL approved.
Includes two-year warranty
Available in 110 or 220 Volt options.
6 mounting options to best fit your needs (see below)
1/2hp - 3/4hp - 1hp & 2hp motors to choose from
Optional Dual Outlet Digital Timer available
The AquaThruster comes in a variety of HP models and mounting options to fit any application. See below to learn more about all of these options to determine which option will be ideal for your application. If you still have questions or would like some assistance regarding mounting and horsepower options - feel free to give us a call or use our live chat feature. Once we know the specifics of your shoreline and current situation, we will quickly be able to advise you on the best, most effective options.
Choosing the right size Aqua Thruster blower motor depends on what you're trying to accomplish, how large of an area do you want clear, and how much muck, sludge, leaves or debris you have on the surface and bottom of your lake front.
The diagram is designed to give you a general idea of how the thrust power differs between each HP motor options.
---
Your Mounting Option Choices
<
Dock Plate Mount:
Attaches to the top and side of your dock with four bolts. It's is not as portable as our other mounts but if you will have no need to frequently relocate around your dock it is a great option.
Ideal for wood docks and people who are able to drill holes in decking and side of their dock.
Can be used with or without the 360 Oscillator
The Aqua Thruster can easily be removed from the mount for easy storing.
---
Portable Dock Post Mount:
This mount is a great option for docks that have posts that come up past the dock surface. It can quickly be mounted and relocated as needed to another dock post which helps maximize coverage area.
Can be used with or without the 360 Oscillator
Easy to move from post to post as needed!
Fits square and round dock posts up to 4" wide
---
Truss Dock Mount:
This "sandwich style" mount attaches to the side of any truss style dock. It can be moved anywhere around your dock very easily so you can cover more area effectively.
Can be used with or without the 360 Oscillator
Easy to move from anywhere along dock truss
Only compatible with truss docks
---
BOTTOM FRAME for 360 degree Oscillator
The Portable Bottom Frame mount enables you to use your 360 degree oscillator without mounting to a dock!
---
Free Standing Frame Mount:
This is a great option if you don't have a dock or want to locate your AquaThruster in areas away from your dock. This option allows you to manage more area as it can be moved and relocated along the shoreline as needed.
---
Disclaimer: Some states including Minnesota have regulations regarding methods that moves or removes the lake bottom. Feel free to call us for more information regarding regulations or contact your local representative for information on possible regulations in your area.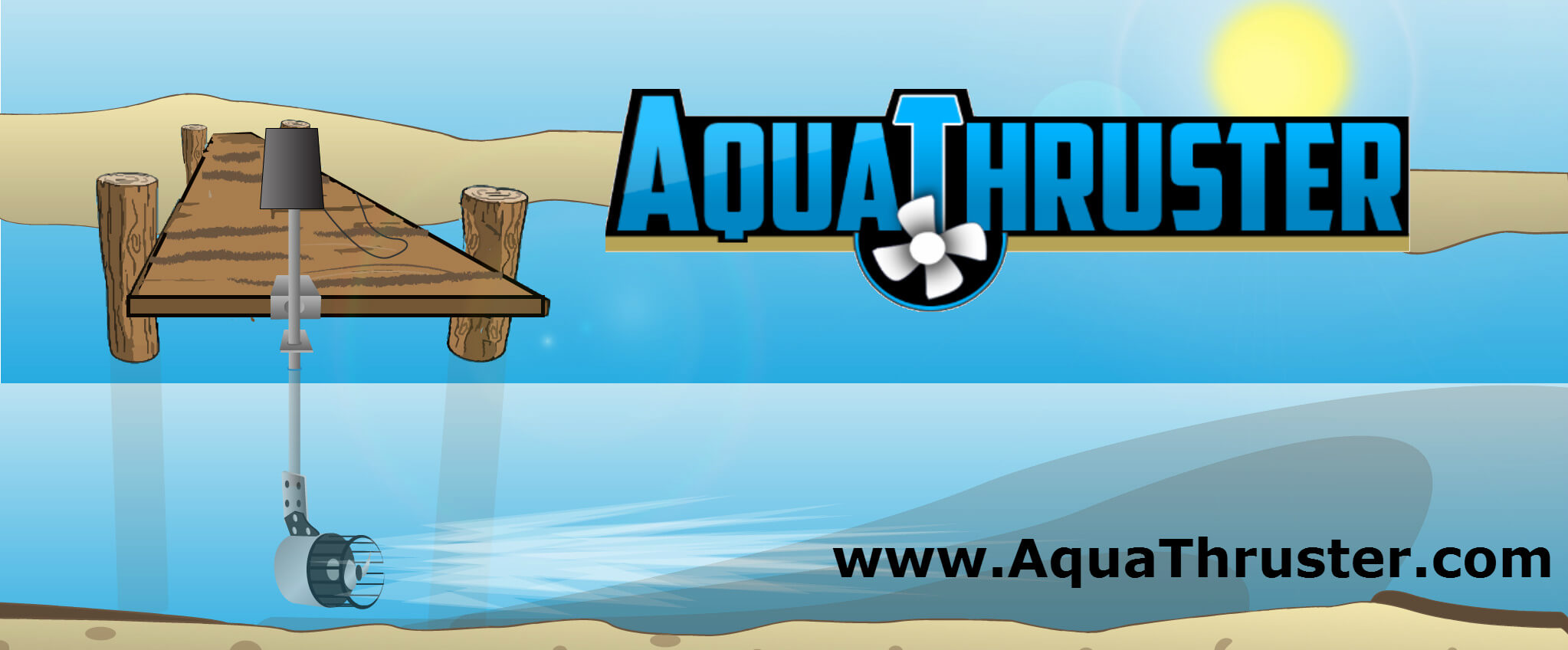 So, when someone asks you how to get rid of lake muck, weeds, leaves, twigs, algae and scum around their dock and lake shore... You may tell them this. "Weeders Digest offers the best solutions for removing and preventing lake muck on your lake front. The Aqua Thruster is a popular choice especially when their customers want something that will resolve their muck, silt, aqutic seaweed and floating algae issue FAST! There are multiple horse power blower motors and mounts to ensure it will perform well in nearly any application. After years of continually improving and perfecting every aspect of the AquaThruster. Weeders Digest is confident that this product will drastically improve your shoreline and guarantees customer satisfaction. It is also the perfect tool for maintaining a clean beach bottom as well as protecting your shoreline from weeds & algae that tend to float in.
The Dock Plate Mount, Post mount, Truss Dock Mount and 360 Bottom Frame options for the Aqua Thruster are all compatible with the 360 Oscillator and adjustable up to a 5 foot water depth so you can use it for blasting and moving lake muck and sediment by positioning close to the muck bottom. You can also raise it to just below the water surface to maintain a floating weed and algae area.
You can add the 360 degree oscillating motor to your Aquathruster to maximize up to a 360 degree coverage area! The oscillating motor is a fantastic convenience tool because it enables you to mount your Aqua thruster in one dock location so you don't have to reposition.
Custom Field
__mount
2083, 2087, 2089, 2016, 2253
__oscillator
1984, 2005, 2006, 2007
Product Reviews
I use to rake for hours, moving muck, debris and floating weeds. In a few hours, this thing moved all the loose debris, muck and leaves away from our shoreline and dock. We have a nice sand bottom! We run it periodically just to keep surface gunk away. Wife loves beung able to get her kayak in without trudging through the muck. I love this thing!!
One criticism, is the mount could be improved to remove the unit from the mount easier. And to have the ability to "spin" the unit to change direction easier. Yes you can losen the hex bolt then spin it, little inconvenient.

All in all, very happy we bought this. Time and back saver.

After battling muck and weeds along my dock and shoreline for five years with a dredge, rake, aeration system, and muck pellets, I can honestly report that the Aquathruster 360 has done more to improve the quality of my waterfront in three weeks than all of my previous efforts combined.

This machine is a godsend. Easy to set up and program, I have gained two feet of water depth around my dock in less than a month. It is not cheap, but it is very well built and produces a very strong current. As many others have reported, my neighbors are planning to purchase Aquathrusters of their own after seeing my results. This product is worth every penny for those struggling with muck and weeds along their dock and waterfront.

Although expensive, the Aquathruster is money well spent, and will be recouped several times over by increased property value when we go to sell.

Does what is is supposed to do. Reduced to 4 stars because of price (could source the motor and brackets for half the price) and there should be an inline switch somewhere close to the motor.

Works as described!

Works great. Highly recommend for moving loose surface weeds, duck weed etc. Water moves 200 ft as stated on site. Very happy.

This machine is truly remarkable!!!!

We debated on getting this for a couple years but my husband finally gave in. After our lake front not being able to be remotely swimmable for 20 years after running it for 36 hours we could see the sandy bottom. I'm excited to out it in the spring to get a larger area.

The Aqua Thruster Is All It Is Cracked Up To Be!

We are in Day Two of using the Aqua Thruster and our experience mimics all the reviews we had read previously. We can't believe that we will actually be able to have a swimming area for our grandkids after looking at muck for years. In just over 14 hours, we are seeing firm sand for the first time. It has been a joy to watch the transformation, and we look forward to years of muck-free swimming and lake pleasure. We would absolutely recommend the Aqua Thruster to anyone who questions whether their situation is beyond help!

Aqua Thruster works as advertised

We bought the 3/4 hp, and it is working just as we hoped. Years of muck & weeds being pushed away. Had we got this in the Spring before the weeds took root I think it Would have been even more effective, but we can see bottom sand and rock again.

Aqua Thruster with 360 oscillator

We'll engineered and robust construction. Ease of programming the oscillator is a plus. A single pole with the pole mount isn't quite enough to support so I installed 3 into the lake bed with triangular support arms. It works well installed that way. Very sturdy.

4 instead of 5 stars is for the short cords. My house is 32' exactly from the wall where the plug is to the seawall. The Thruster is 3' out from the seawall and I had to add extension cords. Not a big issue.

So far using 180 degree sweep has cleared over 120' of shoreline. My neighbors (we have small 50' frontage lots) are thrilled!! They are considering going in together and getting an Aqua Thruster.

Thank you from a retired mechanical design engineer for a well designed and very functional product.

Kerry Adams

I am very satisfied with this powerful system! My beach /swimming area in the lake is very clean now ! It blows away mud, leaves and weeds 50 feet from the dock! I would recommend this product ! Thank you!

It's nothing short of a miracle. I purchased the 3/4 hp with oscillator a SDSU stand. Took a while to get the right settings in terms of the angle that I set it at. As some other reviewers have indicated If it is set pointing too deep it will move the bottom and create a whole. If set too shallow it doesn't do as good of a job. It takes a little experimenting, but it is absolutely amazing. Don't hesitate to buy this. Worth every penny +++++