Product Description
RID & PROTECT YOUR LAKE, POND OR BEACH FROM MUCK, SLUDGE, ALGAE, FLOATING WEEDS & DEBRIS.
Note: This page is for the AquaThruster with the FreeStanding Frame option. If that is what your here for please keep reading below. If you want to explore other options click any of the links below: To see all other mounting options and get more information regarding the AquaThruster CLICK HERE to go to the main Aqua Thruster product page.
-Dock Mount / Portable Post Mount / 360 Oscillator / Float Mount
The Aquathruster has been created to handle the rigors of removing and blowing sediment/lake muck from your lake bottom. It has the ability to blast muck from 30-70 feet from wherever it is positioned, depending on which horsepower you choose.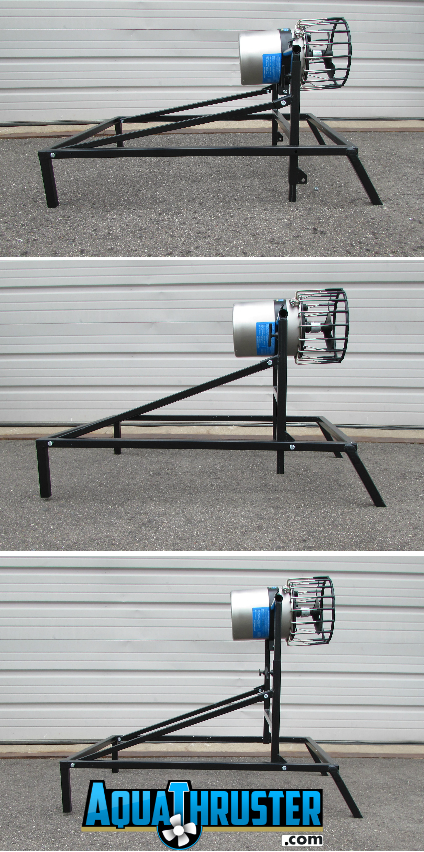 The Free Standing Frame works great for cleaning up the balance of your lake shore if you don't have a dock or pier. It is easy to reposition and is very effective for blasting sediment or floating debris and algae.
-Reduces stagnant water

-Provides aeration & circulation

-Keeps sediment from settling on the bottom

-Sweeps the waterfront of floating weeds and debris
Features:
Efficient operation as the ½ hp draws 5 amps, the ¾ hp draws 6.5 amps, and the 1 hp draws 11 amps
Comes standard with 50' of submersible power cord and you can increase the cord length in 50' increments
All components are UL listed and UL approved
Multi-faceted clean-up tool
Includes unconditional two-year warranty
Available in 110 or 220 Volt option
3 sizes including ½, ¾, and 1 hp
6 mounting options – Learn More
We now offer 6 mounting options for the AquaThruster to work for any application! Click Here To Visit AquaThruster.com to learn more or WATCH THE VIDEO BELOW.
If you own a dock mount or switch to a dock mount we now offer it with an auto-oscillator. We call it the AquaThruster 360 if you need more information - just give us a call or email us at TheWeedersDigest@gmail.com
Most of our customers find that the 1/2hp and 3/4hp Thursters have more than enough power but if you need the ultimate thrust, we now have a 1hp model too. Yes, it's more expensive but WOW does it create a current!
There are a lot of things to think about, so if you have any questions, give us a call at 763-551-1441 or 877-224-4899.
Note: This page is for the AquaThruster with the FreeStanding Frame option. If that is what your here for please keep reading below. If you want to explore other options click any of the links below: Or to see them ALL Visit www.AquaThruster.com HERE
NOTE: Some states may have regulations regarding methods that moves or removes things from the lake bottom. You may want to contact your local representative for information on possible regulations in your area.
Product Videos
Custom Field
Product Reviews
Aqua Thruster is awesome while the Freestanding Frame has a few issues

5 stars for the Aqua Thruster itself, but only 3 stars for the Freestanding Frame.

So I've been using the Aqua Thruster on the Freestanding frame this past summer to remove a tremendous amount of muck from around our dock. The 1hp Thruster does a tremendous job blowing out muck and produced current of well over 80' at depths of over 10'. I've gained at least 5' of depth just blowing across the surface and not down. It's unearthed all sorts of sticks, logs, and debris hidden below the muck surface that if left would otherwise be a hazard to those jumping off the dock. We have enough depth now to actually dive now.

As for the freestanding frame I was a bit disappointed in how it holds on to the Aquablaster both in the chassis as well as the up/down angle pivot. I thought I had cranked them down tight, but it still ended up falling out of the chassis transporting it in the truck, and when in use the pivot angle slipped. I had to super crank everything down to the point that now I am afraid to adjust anything. The paint/powder coating on the feet started to peel off on the first day of use with signs of rusting. The feet are not sealed so they also immediately compacted with mud. I had a lot of trouble with balance where it would often times just blow over backwards when the fan started up. We had to either hold it down on start or sandbag the front. I think a lot of this was caused by uneven lake bottom and/or my unwillingness to adjust the pivot. The frame itself has held together just fine despite the issues listed above. I think I'm going to try and come up with my own design for next year though to make adjusting direction easier.

I found this product to be extremely effective in maintaining the deep water access to my dock and removing muck and weeds from my shoreline.
My Home is on a freshwater lake in Florida, weeds are always a constant problem. Prior to purchasing the Aqua Thruster I had tried every type of expensive chemical with very poor results. I've also hired local companies with weed harvester Machines but they unfortunately do not remove the roots so the weeds would come right back.
The Aqua Thruster was very effective at moving the muck and sand, therefore unrooting the weeds that were invading my shoreline. The added bonus is that I found it to be very effective at maintaining deep water access around my dock.
It was an expensive tool but but if you've paid for waterfront property it's worth the investment to keep your lake front in pristine condition.

There's very little negative I would say about this product. But if I had to say something negative it would only be that with the one horsepower motor it has a tendency to flip itself over. This was easily remedied by ensuring that the feet were properly buried in the sand and muck and not being too aggressive and pointing the motor down towards the lake floor.