Frequently bought together:
Description
The Aquatic Mower – Everything You've Ever Wanted in One Powerful Underwater Weed Cutter
This electric battery powered heavy duty lake weed cutter has been designed to be one of the most effective and user friendly boat mounted underwater weed cutters ever built. It's designed to quickly mow and cut just about any type of aquatic vegetation. It mounts on the back or side of nearly any smaller type of boat. It is also manufactured with high quality components in the USA.
This lake weed mower/cutter is industrial strength. It can run up to 6 hours on a 12 volt battery. It is easy to turn on and off using the safety switch that acts as safety feature. With a cutting width of 4 feet and a cutting depth of up to 5 feet, it can cover a very large area in a short amount of time. There are 15 blades on the top and 16 on the bottom that reciprocate to slice though vegetation.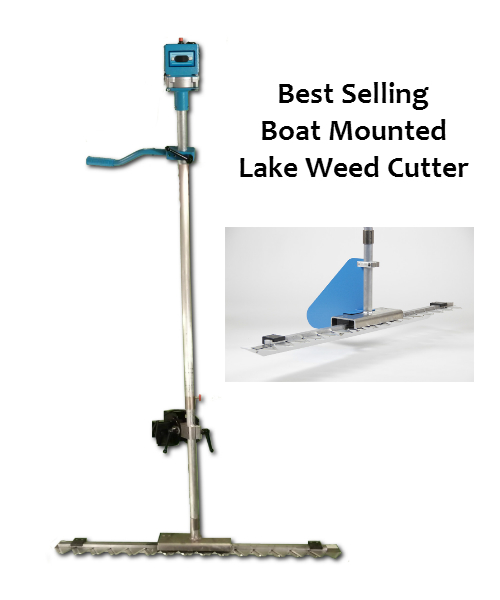 Weighing only 59 pounds, it is easy to attach to the boat of your choice. It has a low power consumption that is efficiently run on 12 volt DC and is suitable for prolonged general all purpose cutting with the robust, lightweight design. The heavy duty aluminum and stainless steel construction is able to provide a long life, while the fully adjustable mounting bracket allows you to control the cutting. The custom HDPE bearing blocks help to provide a smoother operation while managing the weeds along your lake front.
The battery source is not included with the purchase of the Aquatic Weed Mower but can easily be purchased at your local auto parts store.
Aquatic Lake Mower Features:
Special low power consumption, efficient, 12 volt DC, Suitable for prolonged general purpose cutting.
Robust yet lightweight design.
Rust resistant Aluminium and Stainless steel construction, giving long life.
Fully Adjustable mounting bracket.
Safety switch with fail safe on / off switch.
Custom HDPE bearing blocks, giving smooth operation.
Upper depth adjusting collar (adjustable for varying depth).
Compact pin and channel drive.
Power Source, (not included) a 12v marine / leisure battery allows for up to 6 hours or more cutting time per charge.
Benefits
Environmentally friendly
Requires minimal labor to clean the weeds, algae and seaweed out of the water
Make your lake front look more appealing and beautiful
No longer fight with weeds and tangles in your boat motor
Battery powered
Maintenance free mower
Powerful, yet lightweight
Quickly mow the weeds and other green within the water
Reduce the re-growth of the weeds in the water
Choose which areas of weed to remove and which to keep
Make fishing easier than ever when you clear out the water
Looking for other underwater weed cutters? Check out our other cutters & mowers.
Specifications
| | | | |
| --- | --- | --- | --- |
| Item Name: | Aquatic Mower | Common Applications: | Boat-mounted underwater weed cutting |
| Weight: | 59 lbs | Width: | 4' |
| Maximum Cutting Depth: | 5' | Material: | Heavy Duty Aluminum / Stainless Steel |
| Blades (qty.): | 15 top, 16 bottom | Power Type: | DC ( battery/source not included) |
| Voltage: | 12 volt | Warranty: | 2-years |
FAQs
Q: How do I connect the Aquatic Mower to my boat?
A: Connect it to the transom or gunnel or any other surface under 2 ½" (i.e. pontoon deck, railing, floating dock, etc.)

Q: What size/type vegetation will it cut?
A: Any weed under 2" in diameter. Cuts like butter even with thicker weeds (i.e. cattails and lilypads)!

Q: How does it work in salt or brackish water?
A: Like a champ! Simply rinse and dry with fresh water after each use.

Q: What happens if the Aquatic Mower hits an obstruction like a fence post, stump, or large rock?
A: The Aquatic Mower features a "break away" which allows the mower to bounce back, and let the obstruction pass through without damaging the stainless steel cutter blades before it drops back down to continue cutting.

Q: How long does the Aquatic Mower operate on a fully charged battery?
A: Approximately 6-8 hours.

Q: Does the Aquatic Mower include an extension to cut deeper?
A: No, the Aquatic Mower is adjustable to a maximum 5' water depth.

Q: How long does the Aquatic Mower take to assemble? Are the instructions easy to follow?
A: The Aquatic Mower takes 30 + minutes to assemble, however, it comes with easy to follow, step-by-step video assembly instructions.

Q: What kind of battery do I need to run the Aquatic Mower?
A: We recommend running a standard 12V Marine battery with the Aquatic Mower.
Why Buy From Us
We Are Experts
All of our agents have extensive knowledge of every item we sell. The result is a first hand, intimate understanding of our catalogue, which we pass along in helping you find your perfect lake or pond management solutions. In many cases, we also offer customization options so don't be afraid to ask.
Life Long Support
When you deal with Weeders Digest, you get so much more than "a great product". You receive 24/7 support, product use feedback from a staff with working knowledge of the equipment, installation tips, service assistance, and the personal touch a small business offers . We strive to build lasting relationships with our customers, and love to see/hear the amazing results as much as you!
Satisfaction Guarantee
Customer satisfaction is our highest priority. If for any reason you are not 100% satisfied with your purchase, or experience with our company let us know – we will make it right.
Best Price Guarantee
Although many of our products are only available from us - some other brands may be available elsewhere. If you find a competitor offering an identical item at a lower advertised price, just email, text or call us with the ad or link to the product and 99% of the time we can BEAT any offer - And at a price that will make it worth your troubles!
Super Fast Shipping
We offer the fastest shipping in the business and we ship WORLDWIDE. Most orders placed by 3pm Central (weekdays), will almost always be shipped that same day. Orders placed after 3pm will be shipped the following week day. Expedited shipping options are also available.
View All
Close
4 Reviews
I bought my mower in 2005 and use every year to cut lilly pads in front of my boat house. Best investment i ever made.

We have an area in our pond with lots of water lilies and were looking for a eco-friendly way to get rid of them. The mower worked well for cutting the lilies but it takes to people in the boat. One to run the trolling motor and one in front with the mower to keep weeds from wrapping around the arm after they're cut.

I am using the cutter for about two acres of "water shield". So far it has performed reliably and set up was fairly easy. A couple comments: it is awkward and heavy. Attached to front of Jon boat and pushed forward. In thick weeds would have one person keeping weeds from building up on cutter arm (drag issue), and if you are paddling - have at least two doing it in thick weeds.

I purchased this cutter last spring and it works really well.we might be interested in buying another after the first of this year.we are hoping it will cut down the use of chemicals
View All
Close