Product Description
Best Selling Lake Weed Cutter!
The Weedshear is our flagship product and we have sold tens of thousands to happy lake home & cabin owners over the years. This seaweed / lake & pond weed cutting tool is easy to use and effective at cutting most every aquatic plant at the lake base bottom in both shallow and deeper water depths. It will even works for cutting cattails but if you plan on slicing through more than a few then we recommend using one of our other tools. Try our gas powered Aquatic Vegetation Groomer or see check out more Sea Weed Cutting Tools Here.
The WeedShear Ships for FREE ( United States Only)
Use Coupon Code: WSFREE
Features:
49" wide V-shaped razer blade and cutting width
Snap-button handle connection
Stainless steel blades
Convert handle length for both shallow and deep water use
25' polypropylene cord for maximum coverage
Includes hand held sharpener
Folds up for easy storage
OPTIONAL CARRYING CASE AVAILABLE FOR ONLY $19.99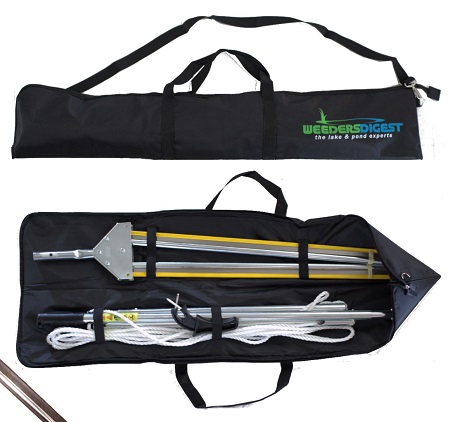 The Weed Shear works great with our Long Reach Lake Rake for cleaning up the cut weeds that sink to the bottom and even ones floating on the water surface.


Easy assembly and fun to use!
Insert spacer bolts and snap the handle together and you are ready to start cutting in just a few minutes! Tie the cord around your wrist, toss the Weed shear into the target area, let it sink to the bottom, and pull the cord back towards you in a "jerking" motion. It's as simple as that! The "jerking" action is what generates the speed required to cut the aquatic plants and their base.
Why the WeedShear is the best choice to cutting seaweed by hand
The stainless steel razor blades will never rust and rarely require sharpening.
The Weedshear easily cuts all kinds of underwater weeds such as Milfoil, Hydrilla & Lily Pads. Just to name a few.
The V-shaped cutter clears a 49" or over 4 foot path of aquatic weeds with each throw!
You can quickly and efficiently cut all the weeds in your swimming area, around your dock, or on your shoreline because you can throw it from your dock, shoreline, or from a boat!
Effective at Any Water Depth. The Weedshear connects the V-shaped blade to the handle using "snap-button" connection! This enables you to use a shorter handle for shallow water depths or you can add the extensions for use in deeper water!
Other cutting tools such as the

Serrated Lake Weed Cutter

,

T-Weeder

or the Weed Razer work okay but many say that nothing compares to the Weedshear.
Disclaimer: Weed Shear is razor sharp so please use caution when operating.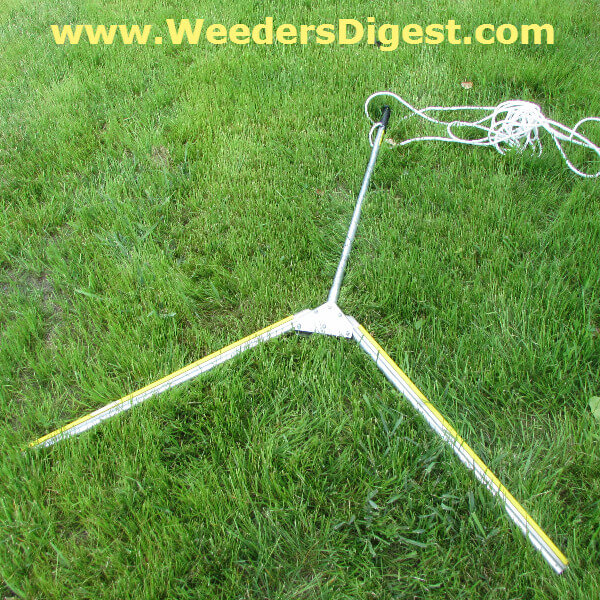 DONT FORGET TO ADD THE STORAGE & CARRYING CASE (option at the top)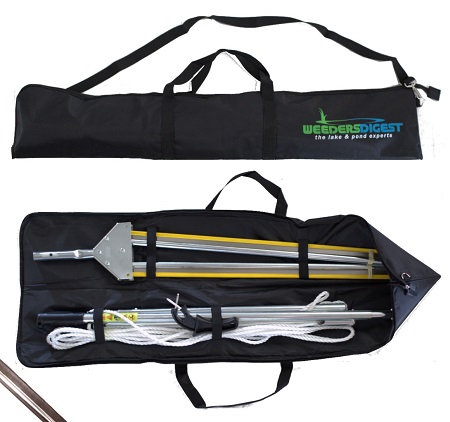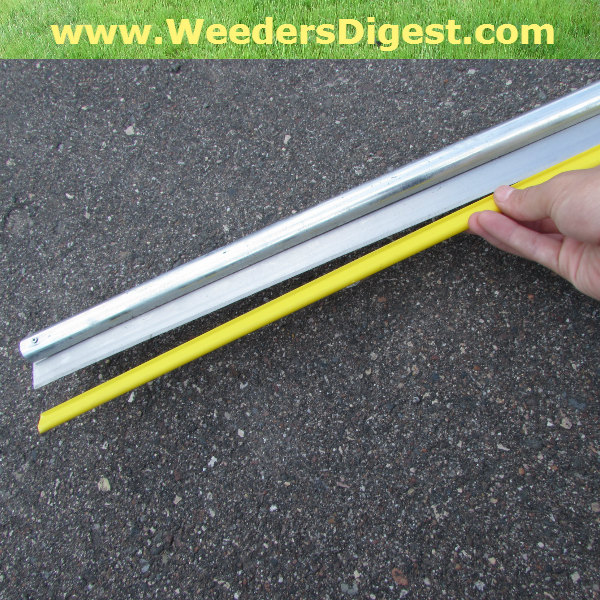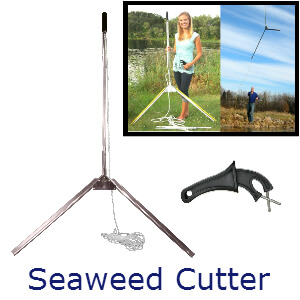 Weeders Digest also offers the Long Reach Lake Rake and the Weed Shear in a Combo Pack. You will get both tools that work great together and save!
See the Combo Pack HERE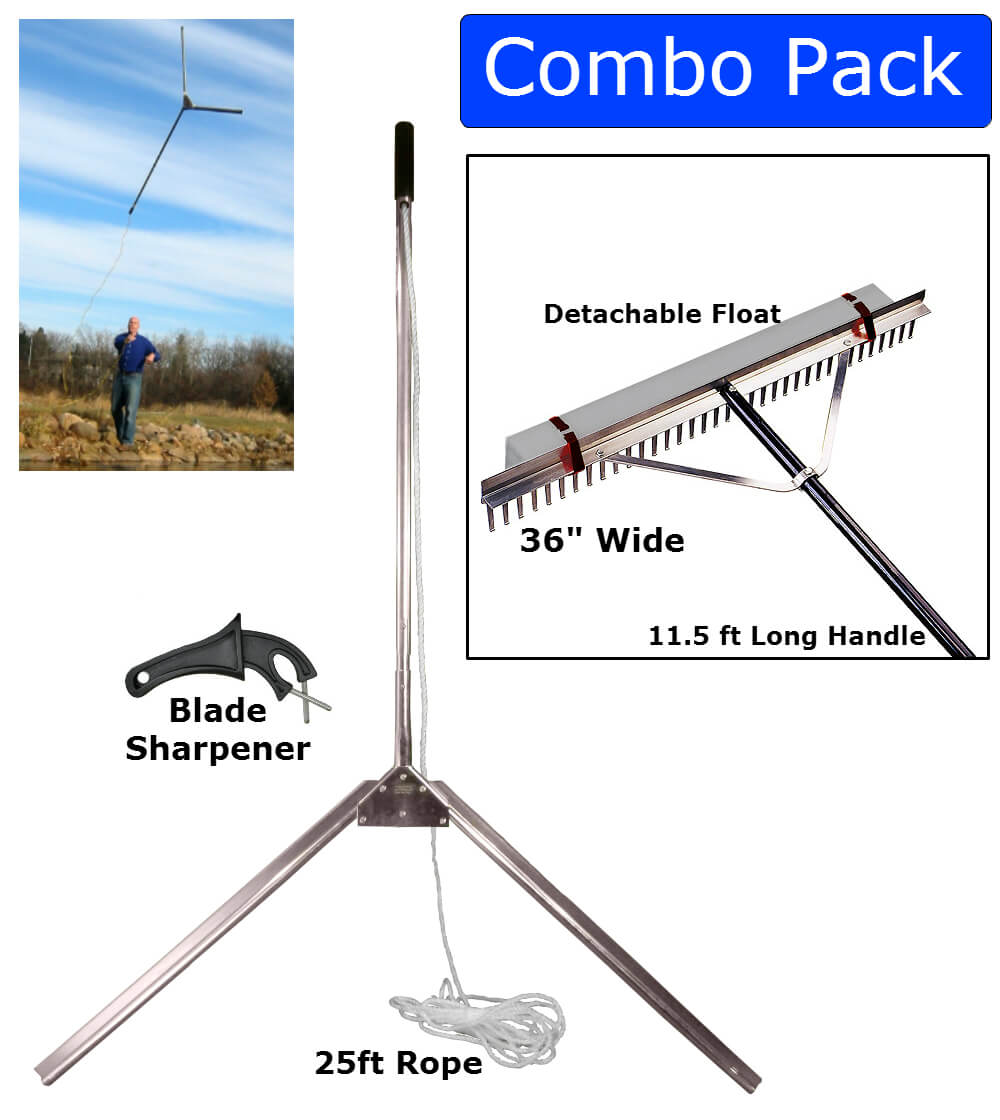 Custom Field
Product Reviews
Great product, highly recommend.

Unbelievable the way it cuts down the pond weeds! We are very happy with this tool! Pond looks super now.

cuts very well. easy to use. no complaints at all.

In Florida, ell grass has become immune to herbicides. I dreaded having to go into the lake and dive to the roots of the ell grass. I heard about the weed shear and ordered one. I love it. It works. You need to watch the video and pull the shear the way they say and you too will be amazed at the volume of weeds it will cut.

I was super excited to try out my weed sheer this past weekend and it was awesome. Of course the first time I did it I forgot to hold on to the rope but my hubby was a pro. We thought it was heavy at first but he could throw it really far and it cut through the weeds and lily pads. Wish the razor covers were a little longer. There is about an inch that doesn't get covered. Other than that, I will definitely recommend it to anyone who needs it.

Purchased the weed shear and over all it works very well. Only when you have very dense weeds does it get a bit hard to pull it through. Very satisfied and it has made a huge improvement in our waterfront.

It works amazingly. So easy and effective.

It did cut weeds as advertised, I was happy with the results.

Searched on line for anything to help me clear my man-made pond which has become choked with razor grass and cattails. It works great; my tip for users is to make sure all pets are kept inside while this is being used; due to its sharpness could do damage in an instant! Just ordered the rake for cleanup of the floating debris and looking forward to a cleaner pond!

Easy to assemble. Sharp tool.

I am cutting a LOT of Chara. This tool cut it and dragged it in also. I made sure to put a very good knot on the rope so I would not lose it in the much. I am 57 yrs old and could throw it out 20 feet or so. Takes a bit of strength to pull it back...but not that difficult. Thumbs up.

If you watch the video, you can pretty much master this tool. It is a manual saw (so tho speak) so it requires a little muscle, but I'm 63 and was able to clear my beach area of lily pads, saw grass and lake weeds in a about a day. The raking in and getting rid of the vegetation is the hardest part! Much, much less expensive than the $3,800 price I got from the lake cleaners!

Every year we deal with curly pond weed in our modest 1/4 fishing pond. This year with the mild winter the weed completely took the pond over. Every bit of open water was covered. We tried other methods that were either very slow or EXTREMELY labor intensive. We decided to order the Weed Shear and it was the best decision we ever made. In just under an hour I, by myself, had cleared an area 11' X 25'! I assure this isn't a joke. It is does require effort when retrieving the Shear but the effectiveness far out weighs that effort and to see everything in its path float to the surface is very satisfying! I HIGHLY RECOMMEND the Weed Shear to anyone looking to treat their shoreline or a small pond.