Product Description
The Long Reach Lake Rake provides the user with a long handle and wide head. This makes it one of the best options for raking and removing seaweed, debris and algae from your beach. Weeders Digest has sold thousands of these rakes and customers have loved them throughout the years. The rake has a lot of advantages that a lot of other rakes are not able to provide you with. Click here to see our other Lake weed & beach rakes that we offer for sale in our store.
Benefits of the Long Reach Lake Rake
36 inch wide head for maximum coverage.

Comes with a detachable float. Use the float for skimming algae and floating weeds off the surface or remove to rake the beach bottom.

Comes standard with an - 11 ft handle (you can add our extra extension for a total length of 16.5 feet)

The handle can be quickly shortened or lengthened.

Comes with a 20' detachable rope making it possible to toss the rake out and increase your reach.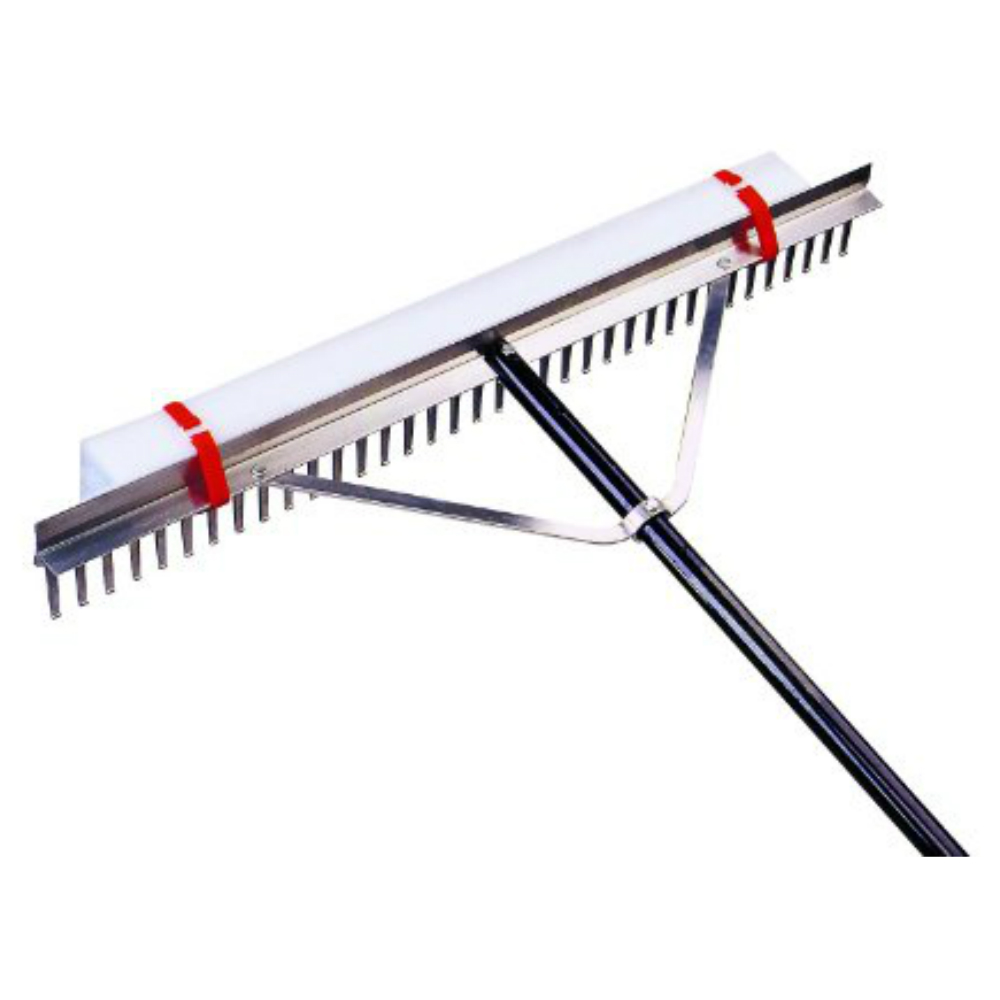 Do all of the work in the water from the dock without having to get in! Or when the water is warm, work from the water and stay cool!
The Long Reach Lake Rake is made in the USA and comes with a 10 year warranty
Specifications:
4 inch aluminum teeth

11 foot handle (with the option to add extention for a total of 16.5 feet)

3 foot wide rake head

20 foot nylon rope for toss/retrieval

Snap button connection handle

Detachable float kit

Add 5.5 foot extension to increase length to 16.5 feet

Weighs 8 lbs.

Made in USA

Ships via UPS
DON'T FORGET to check out our WEEDSHEAR SEAWEED CUTTER. These two products work so well together its as if they were made for each other!

Custom Field
Product Reviews
I like it a lot. We have trouble with duckweed on our waste water lagoon systems. This tool helps us with its removal. It is handy and light and work well with thick duck weed.

I would recommend it to others.

Light weight, good design, easy to handle and has made my work much easier. Will Definitely continue to use your company..

Algae pond rake works great

Very easy to put together, and worked very well. Nice and light, and easy to use. I do think I need to spend the money on the value that sucks up and chops the algae. Just too much of it this year.

I used the rake this morning. It worked great. It was able to pull lot of debris with ease. I did not have to step in the water even once. Great product.

Rake takes muck and leaves out of bottom of pond just like I hoped.

As with the long reach rake I was pleased overall with the rake. It too was easy to handle and got the job done.

I was please overall with the rake. It was easy to handle and got the job done.

I have only used the rake once, but am very impressed. I put the same amount of work in as with a standard garden rake, and pull out at least five times the weeds.

I have a concern that the joint (the snap button connection handle) may be too weak, and will break. Time will tell. I hope that feature is under warranty.

So far, so good. Worth the expense.

I got this about a week ago and was going into the lake with a boat and taking of the weeds I'm already up to half of the stuff done

My pond is over 20 yrs. old and I've always tried to maintain the weeds by raking with a landscaping rake but the weeds have finally taken over. This lake rake is my pond saver. I've gotten so many weeds out I can't believe my eyes.I highly recommend this rake if you have a pond and don't want to use chemicals.I'm really enjoying my pond again.I Wish I had purchased this a lot sooner.

I bought this product to clean leaves out of a channel. I have not been disappointed. It is very well made. I also bought the extended handle so the rake handle is 16 ft. long. That was money well spent. I recommend this product

The float is a nice feature and really long handle
You May Also Like...